Lebanese arrested in Bahrain over 1999 suitcase death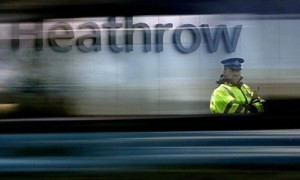 Authorities in Bahrain arrested a suspect Tuesday in the case of a Canadian singer whose body was found stuffed inside a suitcase at London's Heathrow Airport in 1999, according to London's Scotland Yard.
The force said that Youssef Ahmed Wahid was arrested in the Gulf state in what it described as a planned operation and his extradition was pending.
The body of 28-year-old Fatima Kama was found when a member of the public spotted a black suitcase abandoned on the third floor of a Heathrow Airport parking lot July 17, 1999. A security guard forced the bag open to find her in the fetal position. A post-mortem revealed she'd been stabbed more than 10 times.
Wahid, a former Kuwait Airways steward, was arrested within days of the discovery at his hometown of Ramadiyeh in southern Lebanon, and he reportedly denied having anything to do with the killing. But he was eventually released and then went on the run.
Wahid's brother, Abdel Ahmed, was also arrested in connection with the case, but British prosecutors eventually dropped the charges, citing insufficient evidence.
Both Youssef Ahmed Wahid and Kama, a frequent visitor to the U.K., shared an address in west London and police have said that the motive for the slaying may have been the theft of Kama's money and jewelry, which has never been recovered.
The Moroccan-born Kama had been scheduled to fly to her parents' home in Montreal on an Air Canada flight.
Photo: A policeman keeps watch at Heathrow airport. Bahrain on Tuesday arrested a suspect in the murder of a Moroccan-born Canadian woman whose body was found inside a suitcase at London's Heathrow airport in 1999, police in the British capital said. AP