STL calls Hezbollah evidence 'incomplete' asks for more Information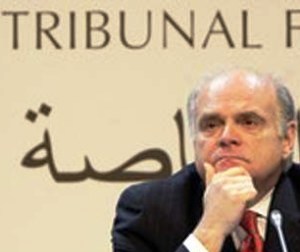 The Special Tribunal for Lebanon announced Tuesday that the
Office of the Prosecutor has requested the Lebanese authorities to provide "additional information and evidence held by the Secretary General of Hizbullah" Sayyed Hassan Nasrallah.
"In response to the request of the Office of the Prosecutor, on 17 August 2010, Hezbollah officials hand-delivered to the Attorney General of Lebanon an envelope containing six DVDs. This material was handed over to the Office of the Prosecutor on the same day," a communiqué issued by STL's press office said.
"The Office of the Prosecutor has begun its review of the material. The preliminary assessment of the DVDs has determined that the information is incomplete since the material that was handed over is limited to the material shown during the 9 August 2010 press conference and does not contain 'the rest of the evidence' that (Sayyed) Hassan Nasrallah referred to in his press conference," the communiqué added.
The Office of the Prosecutor said that the information received "will be thoroughly assessed," adding that "this can properly be done only if it is based on a complete information."
The communiqué went on to say that "the Office of the Prosecutor is continuing its investigation with diligence and applying the highest standards of international justice."
"The Prosecutor will determine when and against whom an indictment will be submitted to the Pre-Trial Judge for confirmation. However, no indictment will be issued until the Prosecutor is satisfied that, in light of all the circumstances, it is based on solid and convincing evidence," added the communiqué.
During his 9 August 2010 press conference Nasrallah said he has more evidence which he will present at an appropriate time.
Last night Nasrallah brought again the issue of false witnesses and asked :
"Who is behind the false witnesses? Why do some [people] in Lebanon want to hide them? If you do not want to punish them, do not. But [I ask] for the sake of truth and justice. Who fabricated them and misled the investigation for four years?"
According to Ya Libnan legal advisers there is no such a thing as a false witness before indictments are made . Only the courts during the trial can determine whether a witness is for real or false. At this stage no body knows who will be indicted, despite the fact that Nasrallah has revealed that some members of the party will be indicted. Such information is not coming from STL …such information is most probably assumptions or extrapolations coming from Hezbollah members that were interrogated by the Investigators. The trials will start after the indictments are made . There are 12 judges , 4 of them are Lebanese .