Lebanon rejects any changes in UNIFIL mission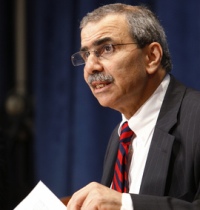 Lebanon has rejected any changes in UNIFIL mission. Lebanon's ambassador Nawaf Salam said he asked for the renewal of UNIFIL's mandate for another year without a change in its mission.
This comes after the U.S. representative at the UN security council proposed changes to a draft resolution on the renewal of the mandate of U.N. peacekeepers in the south.
During closed-door consultations at the Security Council to discuss the renewal of UNIFIL's mandate on Tuesday, the U.S. suggested some amendments to the draft resolution prepared by France. The suggestions include a stronger language to guarantee the freedom of peacekeepers' movement and the respect of their mission.
Salam told An Nahar that U.N. chief Ban Ki-moon's proposal to the Council to renew UNIFIL's mandate did not include a reference to any changes in the peacekeepers' operations.
The French-drafted resolution on the renewal will "without any doubt take into consideration the developments in the past year same as previous renewal resolutions had done," Salam said.
The draft resolution is expected to be adopted next Monday, media reports said.
Reasons behind proposed changes
The reason behind the US proposal is reportedly the protests that took place in south Lebanon last July .
Gérard Araud, Permanent Representative of France to the United Nations said recent confrontations between UNIFIL troops and villagers in southern Lebanon were "not spontaneous," Al-Akhbar daily reported on July 15
"These incidents were neither isolated nor spontaneous," Al-Akhbar quoted him as saying.
Araud stressed on the need to ensure freedom of movement of UNIFIL in accordance with Section XII of 1701, calling for disarmament of Hezbollah under U.N. Resolutions, particularly 1559 and 1701.
On July 3, a UNIFIL patrol was attacked and overpowered by residents in the southern village of Kabrikha. Officials said the villagers, after one of them had been arrested, pelted UN troops and seized their weapons.
On June 29, residents attacked a UNIFIL vehicle between the villages of Adeisseh and Kfar Kila. The residents blocked a road and hurled stones toward a UN patrol during what officials termed a "maximum deployment exercise."
"It is incumbent on the Lebanese authorities to ensure the security and freedom of movement for UNIFIL within its area of operation," UNIFIL commander Maj. Gen. Alberto Asarta Cuevas said following the clashes.
According to observers south Lebanon is Hezbollah's stronghold and the militant group wanted to send a message through these protests that it is still in control.
One Arab observer who linked the south Lebanon clashes to the Iran sanctions was quoted last July 15, as saying: " Hezbollah is trying use the people in the south as barricades to deter the international sanctions on Iran."