STL indictments will not be delayed, report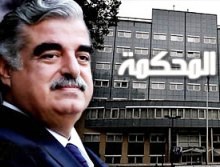 Judge Daniel Bellemare , Special Tribunal for Lebanon( STL) Prosecutor has reportedly said that the indictments in the killing of former Premier Rafik Hariri will be issued in a timely manner, As-Safir newspaper reported.
As-Safir said Friday that Bellemare's remarks came during a meeting with Legal Counsel at the U.S. Embassy in The Hague earlier this week.
It said Bellemare had informed the embassy official that he was not contacted by any Lebanese official with regard to postponing issuance of the indictment.
As Safir , a supporter of Syria and Hezbollah has been leaking information about the STL on regular basis during the past 2 months. According to legal experts the leaks are intended to undermine the international court by distorting its image.
The daily Al-Balad, however, quoted well-informed diplomatic sources in Beirut as saying that in view of Hezbollah's revelations, the STL will postpone the indictments until the beginning of 2011.
This comes after Hezbollah announced its readiness to hand over to the Lebanese authorities the footage allegedly intercepted from Israeli surveillance planes of the site of the assassination of Lebanon's former PM Rafik Hariri prior to his murder on Feb .
Hezbollah leader Sayyed Hassan Nasrallah , tried Monday night during a televised press conference to present evidence including footage he said came from Israeli Unmanned Aerial Vehicles (UAVs) monitoring Hariri to prove that Israel was behind the assassination of Hariri. He also presented a confession from a suspected Israeli spy .
Following Nasrallah's presentation Bellemare, officially requested Lebanese authorities to provide all the information in possession of Hezbollah.