March 14 official: Lebanese committed to STL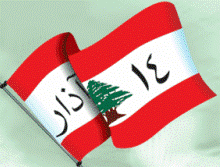 In a statement issued at the end of March 14's weekly , its General Secretariat on Wednesday said the Lebanese are committed to the Special Tribunal for Lebanon "and its role, free from any interference and dictations."
"Lebanese are invited to fortify the Tribunal's work by standing alongside the court, given that it is a pillar of national consensus so that it is able to accomplish its mission at the highest levels of professionalism and impartiality," the statement said.
The statement stressed that "justice will remain the most important pillar of peace and stability in communities."
"That is why the Lebanese are committed to this Tribunal and its jurisdiction in full based on international standards of justice, and free from any interferences and dictations, and all restrictions and limitations in its work in order to uncover the truth of these crimes," March 14 added
The statement stressed that agreeing on a strategic defense plan would be the first step toward arming the Lebanese Armed Forces (LAF).
"The latest military, security and diplomatic developments, particularly the Aadaiseh clashes, reveal the need for a defense strategy in order to protect Lebanon," the statement said.
It also said that Lebanon's relations with other countries should be conducted through embassies and constitutional institutions, adding that the cabinet has the exclusive right to take decisions related to sovereignty and facing Israel.
The March 14 General Secretariat also said that Lebanon and Iran enjoy good relations, but added that Tehran must take into consideration that Lebanon is a free country with its own interests.
Foreign Affairs Minister Ali Shami returned on Monday from an official state visit to Iran without the approval of the cabinet.
March 14 statement comes after Hezbollah leader Sayyed Hassan Nasrallah tried Monday night during a televised press conference to present evidence including footage he said came from Israeli Unmanned Aerial Vehicles (UAVs) monitoring Hariri to prove that Israel was behind the assassination of Hariri.
Syrian- and Iranian-backed Hezbollah is facing increasing pressure as the U.N.-backed tribunal appears set to indict several of its members.
STL was formed by the UN to try the killers of Lebanon's former PM Rafik Hariri.
According to legal experts Nasrallah's speech is part of a well organized campaign against the STL following a report last month in the pro-Syrian newspaper Al Safir which revealed that Hezbollah members will be indicted by STL in the assassination Hariri. Hezbollah officials, Lebanese allies, Iran and Syria have been actively trying to discredit the Tribunal and portray it as a an Israeli project designed to create sectarian strife in the country.
The campaign is aimed at giving the Lebanese a choice between Justice or a repeat of the May 7 event . This refers to May 7, 2008 when Hezbollah occupied the western part of Beirut and tried but failed to occupy Mt Lebanon
.