Lebanon DM tells U.S. congressman: Keep your money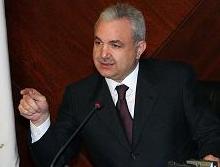 Lebanon's Defense Minister Elias al-Murr told reporters on Wednesday any party that wished to help the military had to do so without any conditions.
"That person who said in Congress, 'I will stop aid to the army', he is free to do so . Murr added: Anyone who wants to help the army without restrictions or conditions, is welcome."
"This person wants to make military aid conditional on not protecting (Lebanon's) land, people and borders against Israeli aggression. Let them keep their money or give it to Israel. We will confront (Israel) with the capabilities we own."
His statement comes after US House Foreign Affairs Committee Chairman Howard Berman, D-Calif., announced his decision Monday to withhold $100 million in military assistance to Lebanon out of concerns regarding Hezbollah, citing recent border skirmishes between Israeli and Lebanese forces and heightened rhetoric from Hezbollah.
Berman , considered a key Jewish congressman and a strong supporter of Israel,    took the decision after Israel and its lobbies in the US complained to the United States and France about funds to the Lebanese army following the skirmish that killed a senior Israeli officer, two Lebanese soldiers and a Lebanese journalist in the worst border violence since a 2006 Israel-Hezbollah war.
"Until we know more about this incident and the nature of Hezbollah influence on the Lebanese armed forces — and can assure that the LAF is a responsible actor — I cannot in good conscience allow the United States to continue sending weapons to Lebanon," Berman said in a statement.
Berman's decision came on the same day that Hezbollah Secretary-General Hassan Nasrallah said he had evidence to suggest Israel was behind the 2005 assassination of former Lebanese Prime Minister Rafik Hariri.
Israeli Defense Minister Ehud Barak said it was a mistake to arm Lebanon's military with advanced weapons because they were being used by the army against Israel. Washington said it was not aware that any U.S. equipment was used in the clash.
Lebanese President Michel Suleiman launched an initiative to build up the army, prompting Iran, which supports Lebanon's militant Shi'ite group Hezbollah, to offer support.
The U.S. State Department said the statement by Iran, which is likely to alarm Western countries who fear Tehran is increasing its influence near Israel's northern border, demonstrated the need for continued U.S. support to Lebanon.
The United States has provided more than $720 million in assistance to the army since 2006 to Lebanon.
A senior U.S. official said the administration was confident the freeze on assistance would be temporary.
Israel said a Lebanese army sniper opened fire last week on two Israeli officers as they watched a tree-pruning operation on the Israeli side of a security fence below the U.N. "Blue Line."
The Lebanese army said it first fired warning shots ( as they watched a the tree-pruning operation by the Israeli soldiers) , then Israelis fired at their soldiers. Israeli artillery and tank fire followed.
Hezbollah did not take part in the clash, but has warned it would intervene if Israel attacked the army again.
Israeli army claimed that a Lebanese army unit sympathetic to Hezbollah had launched the attack, but Murr confirmed today that the army fired at Israel based on "an order from the army chief."
Israeli and Jewish lobbies
Americans for Peace Now (APN) reported last week that pressure appeared to be mounting on Congress to punish Lebanon… It also appeared that groundwork was being laid in advance to ensure US support for Israel in the case of another Lebanon war.
The American Israel Public Affairs Committee (AIPAC ) had reportedly circulated a memo arguing that the Lebanese Army is cooperating with Hezbollah, and stating that unless this stops, "Washington must reevaluate its relationship with the Beirut government and the Lebanese Armed Forces–the recipient of significant American military aid."
Similarly, The Jewish Institute for National Security Affairs (JINSA) had reportedly circulated a memo implicitly bashing the Obama Administration for providing military aid to Lebanon (something that the Bush Administration did as well). The memo also appeared to explicitly call for Israel to launch a new war in Lebanon and took a shot at the Obama Administration in advance for being insufficiently supportive of such an action.
Is US selling Lebanon to Iran?
According to analysts the action taken by the US lawmaker could result in the complete takeover of Lebanon by Iran. The analysts think that Iran has anxiously been awaiting this golden  opportunity  to bypass Syria in its dealing with Hezbollah.
The analysts are saying that up until now all the weapons  have been coming via Syria but once Iran starts arming the Lebanese army the shipments will be coming directly to Lebanon.
Speaker Nabih Berri ( a key ally of Hezbollah ) who met the Lebanese president this morning expressed readiness to provide the army with  weapons in response to president Suleiman's appeal to arm the Lebanese military.
"The Lebanese army has the right to obtain weapons from anywhere in the world," he said in remarks published Wednesday by the Beirut dailies An-Nahar and As-Safir.
"I'm ready to provide weapons to the army, even from underground," Berri added.