Aoun compares himself to Jesus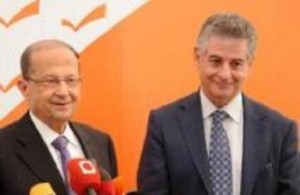 Free Patriotic Movement leader MP Michel Aoun compared himself to Jesus Christ saying "Even Jesus had treacherous followers".
Aoun was commenting on the arrest of FPM official retired Brigadier General Fayez Karam who was arrested on suspicion of spying for Israel.
Aoun called on FPM supporters to remain uninfluenced by the arrest of Karam, , stating that the incident would not affect internal trust within the party.
Karam who was arrested on Tuesday on suspicion of collaborating with Israel has reportedly admitted that he has been spying for Israel and that he has met several Israeli officials during his trips to Europe.
Karam and General Michel Aoun went into exile in France following the defeat by the Syrian army in 1990 and both returned to lebanon following the withdrawal of the Syrian army from Lebanon in 2005
Turning to the issue of the Special Tribunal for Lebanon (STL) Aoun said that no one could accuse Hezbollah of the 2005 murder of former Prime Minister Rafik Hariri as there is currently no proof.
Al safir newspaper reported recently that STL will indict Hezbollah members starting September in the assassination of former PM Hariri, which caused turmoil among Lebanese leaders and Hezbollah MPs who, in turn, accused the STL of being an Israeli project aiming to cause internal strife.
"The safety of four million Lebanese is much more important than justice," said the FPM leader.