Order came from the Lebanese army command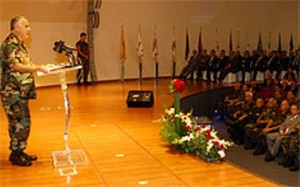 Al-Manar television quoted an unnamed Lebanese army source involved in Wednesday night's meeting between UNIFIL ,Israeli and Lebanese armies as saying that the order to open fire in Tuesday's border clash had "come directly from the Lebanese army command."
Two Lebanese soldiers, a journalist and a senior Israeli officer died in Tuesday's fighting. Israel said the Lebanese Armed Forces (LAF) opened fire on its troops as they were cutting down trees on the Israeli side of the border, it was reported.
In a related development, Army Commander Jean Kahwaji stressed Thursday that the Lebanese army will not abandon its role of defending the country and deterring the Israeli enemy "through all possible means."
He said during a ceremony commemorating retired officers: "The enemy's advanced weapons arsenal will not intimidate the army or sway its will to persevere."
Addressing the crowd, he added: "Your colleagues deployed in the South have once again affirmed their loyalty to the oath and commitment to duty through their heroic confrontation with the Israeli enemy."
Furthermore, Kahwaji stressed the need to continue monitoring spy networks "until they are uprooted," saying that agents will not be dealt with any leniency regardless of which institution they belong to.