Geagea: Give the army a chance to defend Lebanon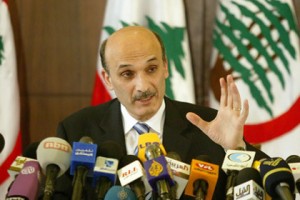 Lebanese Forces leader Samir Geagea told the Central News Agency (al Markaziyeh) on Wednesday that the Lebanese army has enough military capabilities to defend Lebanon "if it were given the opportunity to do so."
"Lebanon's defense strategy is the Lebanese army … and despite the imbalance of power between the Lebanese and Israeli armies … yesterday's clash demonstrated how the Lebanese army wages battle while many over the years attempted to portray the army as being weak and unable to defend itself."
"It is one thing for a legitimate institution to defend Lebanon, and it's a completely different issue for a party to defend goals that have nothing to do with Lebanon," he said.
Yesterday Hezbollah leader Sayyed Hassan Nasrallah tried to portray the Lebanese army as being weak in a speech following the clash between the Israeli and Lebanese armies:
" What we witnessed today was one of the forms of this aggression, but the army's retaliation was courageous despite its modest capabilities."
Geagea , stressed that given the army's military capabilities in defending Lebanon, the government should immediately order it to "turn its deployment from an official one into a practical one throughout the country to allow it to defend the country "
He criticized Hezbollah Secretary General Sayyed Hassan Nasrallah's statements that he would cut Israeli hands that attack the Lebanese army.
"The army can cut them itself, Israel is more afraid of the army than it does Hezbollah , because the world will support Israel in any confrontation with Hezbollah , but it will be divided in any conflict with the army," Geagea added.
He added : "What we witnessed yesterday was a complete support of the army by the Lebanese people who view it as the legitimate institution to defend the country "
Addressing Nasrallah's statements that Hezbollah possess documents implicating Israel in former Prime Minister Rafik Hariri's assassination, Geagea said that the party should present them to the Special Tribunal for Lebanon (STL) and that he will await what Nasrallah will reveal on Monday. Geagea added : Nasrallah waited for 5 years to provide the information…perhaps he didn't have it before .
He said all this talk about voiding the court indictment is useless since STL is an independent international court that cannot be influenced one way or the other . The only way to fight the indictment is through the logic of indictment which is by presenting proof and evidence.