Iran denies attack on Ahmadinejad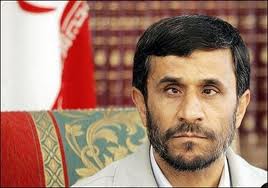 Iran's official news media scrambled Wednesday to deny that Iranian President Mahmoud Ahmadinejad had been the target of an assassination attempt in the western Iranian city of Hamadan.
According to the Islamic republic's government-run agencies, an explosion occurred because an excited "fan" of the country's hardline leader had set off a firecracker. Foreign and less official Iranian media had said an explosive device had been thrown at the president's convoy. Ahmadinejad was in the city to deliver a speech at a football stadium.
"No such attack happened," declared the state-run Press TV, while the official IRNA news agency said the "firecracker did not hurt anyone, and did no damage."
Al Alam, a state-run Arabic language TV channel, reported that the firecracker was set off to "cheer" the president.
As these denials emerged, the less official Iranian news outlets revised their earlier reports that the president had been attacked.
The conservative Iranian website khabaronline.ir removed its report that had said a grenade exploded as Ahmadinejad's convoy headed from Hamadan's airport to the speech venue.
The semi-official Fars news agency also removed a report that said a handmade grenade had been thrown at the path Ahmadinejad and his entourage had taken.
Ahmadinejad appeared unperturbed as he went ahead with his speech, making no mention of any assault or explosion, but striking hard against western demands that Iran roll back its nuclear activities.
"It will be one of your big mistakes if you think you, resorting to lies, hue and cry, are able to achieve something and we will give you any concession," he said.
While there was no immediate claim of responsibility for an attack, Ahmadinejad has accumulated enemies in both conservative and reformist circles in Iran. He is opposed abroad by Iranian opposition groups, but also claimed this week that "Zionist" forces in Israel, which he has said should be "wiped off the map," have targeted him.
The deleted khabaronline report had said Ahmadinejad's car was about 100 metres away from the explosion, adding that it "caused a lot of smoke."
The revised Fars report said the explosion was caused by a "homemade grenade," but later said it was the result of a firecracker going off.
Foreign-based media reporting on the incident included a report from Reuters that cited a source in Ahmadinejad's office.
"There was an attack this morning. Nothing happened to the president's car. Investigations continue . . . to find out who was behind it," Reuters quoted the source as saying.
Dubai-based Al Arabiya television said the attacker threw an explosive device at a car carrying journalists. It also said Iranian forces arrested the attacker.
Other Arab TV reports said an undetermined number of people had been wounded in the attack.
Ahmadinejad was addressing a group of Iranian expatriates in Tehran on Monday when he said the "stupid Zionists have hired mercenaries to assassinate me."
Ahmadinejad regularly tours Iran to give speeches to grassroots supporters, but his overall popularity has been waning amid a faltering economy and increasingly tight sanctions imposed by the United Nations and various western governments, which suspect the Islamic republic is trying to build a nuclear bomb. Ahmadinejad was returned to power in June 2009 following a disputed election that prompted protests and an official clampdown on the opposition.