Army chief says clash scene is a disputed area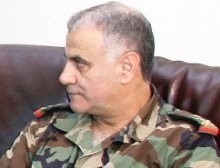 Lebanese Armed Forces (LAF) commander General Jean Kahwaji on Wednesday said that Israel Defense Forces (IDF) troops entered on Tuesday a disputed area along the Blue Line, despite objections from the Lebanese army and UNIFIL, the National News Agency (NNA) reported.
Lebanese and Israeli soldiers exchanges fire Tuesday at the border village of Adaisseh in the fiercest clashes since the 2006 July War. The clash resulted in the killing of two Lebanese soldiers, a journalist and a senior Israeli officer.
The clashes started after Israeli units attempted to cut down contested trees along the border, which the UN said Wednesday were within Israeli territory.
Kahwaji said the Israeli decision was a violation of UN Security Council Resolution 1701, adding that "the army agreed to cutting down the trees today after necessary conditions were met."
UNIFIL units supervised on Wednesday morning the removal of trees along the southern border in coordination with the Lebanese army.