Israel to participate in UN probe of flotilla deadly raid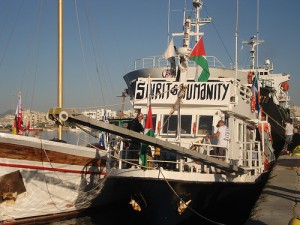 Israel has decided to participate in a U.N. probe of an Israeli raid on a Gaza-bound boat in May in which nine Turkish activists were killed.
On Monday, Prime Minister Binyamin Netanyahu and six ministers decided to accept U.N. Secretary-General Ban Ki-Moon's proposal to establish an international inquiry into the events of the deadly raid.
Shortly after Israel's decision, Ban announced the panel would begin the probe on Aug. 10 and aim to submit an intermediate report in September, the daily Maariv newspaper said.
The report said Israel initially asked the U.N. secretary-general to wait until an Israeli-established probe into the affair completes its investigation. However the request was denied, the paper said.
It is the first time Israel has ever agreed to participate in a U.N. probe
that will investigate the actions of the Israeli commandos who raided the boat.
The paper said the panel will be led by former New Zealand Prime Minister Geoffrey Palmer and outgoing Colombian President Alvari Uribe will act as his deputy. Israel and Turkey will also appoint a representative from each country who will sit on the panel.
The paper said the U.N. chief praised Israel's decision, saying for two months he had engaged in discussions with Israeli and Turkish officials to establish a probe.UPI