Gemayel: Justice threatens Lebanon security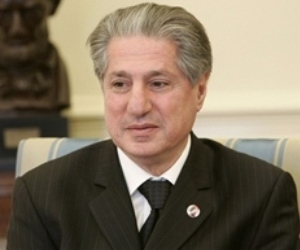 Following a meeting with U.S. Ambassador to Lebanon Michele Sison Former Lebanese president and Phalange Party leader Amin Gemayel said that throughout the world, achieving justice establishes stability, "except in Lebanon where justice threatens the peace and targets Lebanon's credibility before the international community."
Gemayel 's comment comes following reports of Hezbollah leader's insistence that Prime Minister Saad Hariri should declare Hezbollah innocent in the murder of Lebanon's former Prime Minister Rafik Hariri.
The special tribunal for Lebanon (STL) which is an independent court was formed by the United Nations security council to try the killers of the former Lebanese PM.
No one really knows what the contents of the STL indictments will be like , but Hezbollah Secretary General Sayyed Hassan Nasrallah admitted in his speech on Thursday July 22 that some of his party members would be named in the tribunal's formal charges but stressed that he will reject the indictments.
Nasrallah's speech followed a July 20 report in the pro-Syrian newspaper, Al Safir which revealed that Hezbollah members will be indicted by STL in the assassination of Hariri.
Nasrallah's recent speeches created tension not seen since May 2008 when Hezbollah occupied western Beirut and tried (but failed ) to occupy Mt Lebanon .
The recent tension prompted the visit by the Saudi and Syrian leaders last Friday to try and calm the situation in Lebanon. Qatari Emir Sheikh Hamad bin Khalifa al-Thani also arrived last Friday on a 3 day official visit with the aim of reducing tension in Lebanon
Gemayel said that "Lebanon cannot afford more security setbacks because they may threaten the state building process, which is already in a fragile condition."
"The Phalange Party stands firm on the principles of the Cedar Revolution and the accomplishments of the passed five years should not be squandered," Gemayel stressed.