Aoun : Lebanon is before 'a major crisis'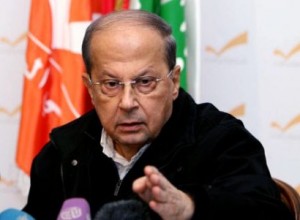 During the annual dinner of the Zahle FPM Committee, Free Patriotic Movement leader MP Michel Aoun said that Lebanon is before "a major crisis" because of the anticipated ruling of the Special Tribunal for Lebanon. He added :"But we'll overcome it because we have the will and freedom to face any (conspiratorial) will."
He said :"unfortunately, a major part of the Lebanese is still yielding to foreign policies."
Aoun told the conferees : "I promise you, and I want you to promise me, that we won't be mercenaries at the service of an international conspiracy."
Aoun, who is on a 3-day visit to Zahle, warned that the major world powers are "trying to solve the Palestinian-Israeli crisis on Lebanese territory."
Aoun said it is "not enough to say that there won't be a civil strife," calling on leaders "not to use twisted ways that may lead to civil strife."
"We're being faced with criticism on daily basis because we are exposing the conspiracies, but we won't surrender," Aoun vowed.
He noted that nobody would benefit from civil strife, stressing that "the only result would be the destruction of Lebanon."
"When (Israeli Army Chief of Staff Gabi) Ashkenazi and some in the West talked about the indictment, some started cleaning their weapons, doesn't this resemble submission to the West?" Aoun wondered.
Yesterday , Aoun in line with all Hezbollah allies launched an attack against STL and said it "has lost its credibility.
Aoun voiced his support for Hezbollah Secretary-General Sayyed Hassan Nasrallah's remarks that if the international investigation did not take into consideration the possibility of "Israel's involvement" in ex-PM Rafik Hariri's assassination, then the tribunal's indictment would be politicized.
"Our national unity is more important … and it is based on freedom of thought of all Lebanese, respect of freedom of expression, and recognition of the right to have opposing views," Aoun added.
"The STL has been subject to a lot of politicization starting with accusations against Syria, then the arrest of the four generals, and today they are trying to point fingers towards Hezbollah. It is stupid not to seriously deal with the campaign led by world media aimed at targeting stability and Hezbollah," Aoun warned.
Aoun was one of the first Lebanese leaders to accuse Syria of being behind Hariri's murder and when he was in exile he criticized Hezbollah constantly, but following his return from exile he allied himself with
Syria's allies including Hezbollah.
Many blame Aoun for the 2006 war and the subsequent events that took place from 2006 till 2008. They point out that had Aoun not given a Christian cover for the Iranian and Syrian backed Hezbollah militants Nasrallah would never have dared to to do what he did.
Hezbollah Secretary General Sayyed Hassan Nasrallah revealed last Thursday that the tribunal would indict some Hezbollah members in Hariri's murder, but warned that his party would reject such an indictment.
According to observers Hezbollah has been using politicians like Aoun, Democratic Party leader MP Talal Arslan and former minister Wiam Wahab to attack the STL with the aim of ending its role in prosecuting the killers of Hariri. Hezbollah leader Sayyed Hassan Nasrallah met Aoun on July 14, Arslan last Thursday and met today with Wahab for 3 hours.
Nasrallah's speeches last week created a lot of tension in the country and reminded the Lebanese of May 2008 , when Hezbollah occupied western Beirut and tried but failed to occupy Mt Lebanon.
March 14 MP Okab Sakr warned during an interview with Al-Arabiya television on Saturday that there are plots for a coup in Lebanon and that only the Special Tribunal for Lebanon (STL) can decide if Hezbollah is innocent of the 2005 assassination of former Prime Minister Rafik Hariri.