Report: Leaks aimed at preventing prosecution of Hariri killers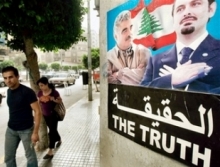 Ash Sharq al Awsat's legal sources expressed surprise over the timing of the leaks on ( Special Tribunal for Lebanon) STL indictments and the speculation on the various scenarios on the contents of the indictments saying these will become a source of constant fear for the people of Lebanon.
.
The sources told Ash Sharq al Awsat that the scenarios and conclusions that some people in the media are propagating lack credibility , since they are not based on proper documentation , since whoever knows (STL prosecutor Daniel ) Bellemare and his ability in maintaining complete silence , strict confidentiality and his way of dealing with the public knows very well that these leaks did not come from anyone at STL, hence these leaks lack objectivity .
The sources added that what is being promoted by the media is shocking because some are now trying to undermine the indictments even before they are issued with the aim of ending the role of STL and preventing the prosecution of the perpetrators of the assassinations in Lebanon .
Most of the leaks are coming from the pro-Hezbollah media . The most recent leaks came from As-Safir newspaper.
A report in the As Safir newspaper on Tuesday revealed that the STL will be issuing at least two rounds of the indictments starting from next September and around the end of this year. In the first round prosecutor Daniel Bellemare will reportedly indict three to five members of Hezbollah and in the second round about 20 with various ranks including some key officials.
According to As Safir , Bellemare said that the Lebanese military leaders told him in an informal way that the Lebanese army will not arrest any members of Hezbollah party if indicted by the court.
Hezbollah leader Sayyed Hassan Nasrallah admitted during a press conference on Thursday that some ( undisciplined) Hezbollah members may be indicted