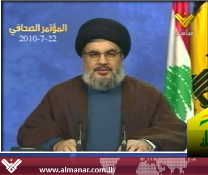 Hezbollah leader Sayyed Hassan Nasrallah revealed at a press conference that some undisciplined members of Hezbollah may be indicted by STL but not the party.
"We are before a sensitive and complicated stage and the Special Tribunal for Lebanon is its gateway, " he said
He said " Lebanon is going through this new phase in light of the pending Special Tribunal for Lebanon (STL) indictments."
Nasrallah said "Some were surprised why we addressed the issue of the STL. We have discussed our right to defend ourselves, but some have considered that those who defend themselves are condemning themselves, and this is a Lebanese creation."
He was referring to his speech last Friday which outraged March 14 leaders
Nasrallah said: All facts that Hezbollah has obtained since 2008, even before [some of its] members were called in for interrogation [by the STL], the court's indictment was [decided on] but [not announced] for political reasons. All talks that STL Prosecutor General Daniel Bellemare held in Washington and France point out that the indictment have already been written
Nasrallah praised Prime Minister Saad Hariri and said before he traveled to Washington last May he visited him and briefed him about the indictments .
"Out of his keenness to ensure national unity, Hariri told me during the meeting that an STL indictment will be issued and will accuse some members of Hezbollah, but the party will not be connected to the 2005 assassination of former PM Rafik Hariri".
He said: "Everyone is talking about the upcoming indictment and agrees that Hezbollah members will be accused , even before the indictment is issued."
He said that the US, along with other countries, started talking about what will happen in Lebanon after the indictment is issued .
He added: "All those who objected to my speech last Friday know that they want Hezbollah to remain silent about the STL ."
He said he rejected the idea that Hezbollah members might be indicted. and said that there is a huge plan targeting Lebanon and the Resistance and the Middle East.
Nasrallah said he cannot confirm that the indictments will be issued in September.
Hezbollah said he is pleased that STL will not accuse anyone in Syria nor any of the four Lebanese generals ( that were released from jail last year previously held in custody.
He urged Syrian President Assad to visit the Baabda Palace as soon as possible in order to open a new chapter of relations between the two countries.
He attacked March 14 leadership and accused them of misleading the investigation and being responsible for the environment which led to the murdering of Syrian laborers.
He said March 14 must conduct a real revision and acknowledge its mistakes like PSP leader MP Walid Jumblatt and MP Michel Aoun whom he praised during he speech.
A report in the As Safir newspaper on Tuesday revealed that the STL will be issuing at least two rounds of the indictments starting from next September and around the end of this year. In the first round prosecutor Daniel Bellemare will reportedly indict three to five members of Hezbollah and in the second round about 20 with various ranks including some key officials.
According to As Safir , Bellemare said that the Lebanese military leaders told him in an informal way that the Lebanese army will not arrest any members of Hezbollah party if indicted by the court.
A report in the German Der Spiegel magazine dated May 2009 revealed a link between Hezbollah and the assassination of Lebanon's former PM Rafik Hariri, father of the current prime minister.