Report: The bullet that hit Gulf air plane was 7.62 mm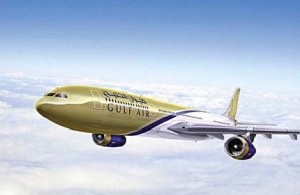 A Gulf Air plane was forced to make an unexpected landing at the Rafik Hariri International Airport (RHIA) last Tuesday, shortly after a Royal Jordanian Airlines plane suffered a malfunction when a bird hit its tail.
Public Works and Transportation Minister Ghazi Aridi told the Lebanese daily An-Nahar that a Gulf Air aircraft had been flying above Cyprus when one of its windows cracked at an altitude of 36,000 feet. "Its pilot contacted the surveillance tower at the RHIA for permission to land and his request was granted," he said.
A source at the airport said the plane was an Airbus 319 and was flying from Athens to Manama with 101 passengers on board. "It landed in Beirut safely at 9:30 pm," it said.
However, several media outlets reported on Wednesday that "stray bullet" from clashes between rival families in the Beirut suburb of Ouzai ( a stronghold of Hezbollah) were behind the emergency landing of the Gulf Air Gulf jet.
One person was killed and five others were wounded in Ouzai Tuesday night, after a family feud escalated into gunfight.
A report today by MTV quoted a security official saying that the bullet that hit the plane was 7.62 mm .
What is strange about the report of the bullet was the fact that the Gulf jet was reportedly at an altitude of 36,000ft when it requested a permission to make an emergency landing
Another plane hit:
There was another report today in Naharnet in which it said that International investigators are inspecting a plane of a Kuwaiti businessman at an airport in Italy after it was allegedly shot at during take off from Rafik Hariri international airport. The story was based on a report by Kuwaiti al-Rai daily on Thursday.
Al-Rai reportedly quoted European security sources as saying that the investigators at the Naples airport were inspecting the Challenger 604 aircraft which received gunshots upon take off from Beirut almost three weeks ago.
The investigators said the gunshot source was most probably from an area near the airport and aimed at sending a certain message. The incident could also have been the result of celebratory gunfire during World Cup matches.
MTV reported today that the Lebanese Internal security Forces are currently investigating this incident.