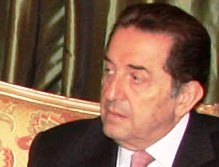 Labor Minister Butros Harb criticized Free Patriotic Movement leader MP Michel Aoun's over the remarks he made about the alleged indictment by the special Tribunal for Lebanon even before it has been issued and said : The nation is more important than the assassins .
Harb said that it is as if Aoun is saying that the assassins should be protected or Lebanon will be destroyed.
commenting on Hezbollah Secretary General Sayyed Hassan Nasrallah's speech last Thursday, the minister noted that the tone may have been milder than the one in his July 16 speech, "but the content is the same."
Harb added: "It is natural for Hezbollah to be in an uncomfortable position if the indictment will accuse it"
Harb stressed Saturday that an appropriate stand by March 14 over the STL indictment will be taken when it is officially announced. He added : "lets wait and see".