Gemayel concerned over repeat of May 7 coup by Hezbollah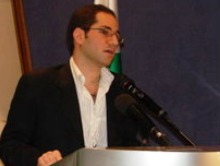 In an interview with the Free Lebanon radio station on Saturday, Phalange MP Sami Gemayel told Free Lebanon radio that Hezbollah Secretary General Sayyed Hassan Nasrallah's speech on Friday raised fears of witnessing a repeat of the May 7 events.
Gemayel is referring to the May 7, 2008 occupation by Hezbollah of west Beirut and its failed attempt to occupy the Druze stronghold of Mt Lebanon. Hezbollah's so called 'coup' took place after the cabinet called on May 5 , 2008 for the dismantlement of Hezbollah's private telephone network and the resignation of the head of airport security, Brigadier General Wafiq Shoucair who was perceived as too close to Hezbollah.
Shoucair resigned last week following a security scandal over the remains of a Lebanese that were found in a Saudi jet in Riyadh
Gemayel said he is not afraid of new May 7 events, "but if you ask me if it will happen again, I say a new May 7 could happen as long as Sayyed Hassan Nasrallah makes such speeches," Gemayel said.
Nasrallah commented in his speech on the recent talk about the Special Tribunal for Lebanon
"The Israelis are standing by helpless before the Resistance's strength and readiness and they are waiting for the STL to create an uproar in Lebanon so they may live in a tense atmosphere that would lift the pressure off of them."
A Der Spiegel report dated May 2009 revealed a link between Hezbollah and the 2005 assassination of Lebanon's former Prime Minister Rafik Hariri.
Gemayel reiterated his support for the STL, saying it remains "a red line" that should not be overstepped.
"Lebanon has two choices, either criminals remain free, or they are brought to justice so that the country can have peace," he said.