Hezbollah official: We also have a list of targets in Israel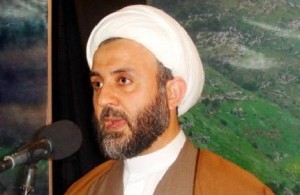 Hezbollah's commander in southern Lebanon Sheikh Nabil Qaouq on Sunday responded to Israeli warnings, by saying that the group has already identified a list of targets in Israel that it will hit in the event of a war.
Qaouq warned the Israeli leaders " the Resistance, too, has a whole list of targets"
His comments were in response to last week's release by Israel's military of maps and aerial photographs of what was described as a network of Hezbollah weapons depots and command centers in South Lebanon.
Israel is "preparing something" for Lebanon and Hezbollah is on high alert to prevent it, unnamed sources in the group were quoted by Al-Sharq Al-Awsat newspaper as saying Saturday.
The Hezbollah sources claimed the photos released by Israel were lies fabrications, but added "we are avoiding any heated exchanges because we want the Lebanese's summer to pass quietly and without incident."
Qaouq said the statements by Israeli Army Chief of Staff Lt. Gen. Gabi Ashkenazi have "exposed" those involved in plans to target the Resistance at the political and media levels.
"They also revealed the scheme that is being prepared internationally and regionally and perhaps locally to target the Resistance," he believed.
Qaouq claimed that the recent incidents between U.N. peacekeepers and villagers in southern Lebanon were "part of a an international scheme to put pressure on UNIFIL in order to to provoke it to change the rules of engagement."
Israeli army has hinted that it would attack locations where it said there was evidence of Hezbollah stockpiling weapons in towns and villages near the border.
Security sources told Israel radio that in case of a deterioration in the situation, Israel would give an ultimatum to the residents of the south to leave their homes to pave the way for an attack on what the Jewish state claims to be depots inside villages.
Qaouk told NNA that the Israeli release comes at the anniversary of "Israel's defeat" in the 2006 war in which Hezbollah battled Israel to a stalemate.
Israel and Hezbollah have exchanged threats in recent months. The summer 2006 war left 1,200 Lebanese ( mostly civilians) and 160 Israelis ( mostly military) dead.