Khalife: Lebanon is united in support of UNIFIL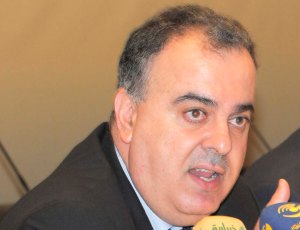 Lebanese Health Minister Mohammad Jawad Khalifeh said on Sunday that Lebanon is united in support of the presence of UNIFIL troops in South Lebanon.
His comment was in response to the recent clashes in south Lebanon between the residents and the UN peacekeeping forces.
Khalifeh denied reports about a clash among ministers during the last cabinet meeting over this issue. This comes after As-Safir newspaper reported on Friday that the cabinet ministers were not in agreement during Thursday's cabinet session on the matter.
"UNIFIL is a clear issue that gains unanimity in Lebanon," Khalifeh said.
Khalifeh is a member of the Amal Movement which is closely allied with Hezbollah. Some observers blamed the Iranian backed Hezbollah militants for the attacks against UNIFIL.
During a meeting on Friday the UN Security Council reaffirmed support for its peacekeeping mission in Lebanon and called on all parties in the country to allow the UNIFIL forces to move freely.