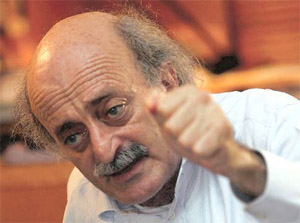 During an interview with al Nahar newspaper that was published on Sunday MP Walid Jumblatt denied that he has withdrawn his bill that grants Palestinians civil rights and allows them to buy property in Lebanon, Lebanon Files has reported
Jumblatt said he never heard about any other proposals in this regard and that he is awaiting the parliamentary meeting on this issue.
Central News Agency ( CNA) reported yesterday that Jumblatt has agreed to withdraw his bill in favor of a humanitarian bill that was worked out between al Mustqbal , March 14 Secretariat and and the Lebanese Forces that will grant the Palestinians the right to work in Lebanon.
The new humanitarian bill was reportedly formulated following discussions with Patriarch Nasrallah Boutros Sfeir , former PM Fouad Siniora and Phalange party leader Amin Gemayel and was also approved by Speaker Nabih Berri and MP Michel Aoun.
MP Nuhad Mashnouk has reportedly been commuting between Jumblatt, Aoun and Berri to get consensus on the new bill.
During an interview with CNA Mashnouk said : We have reached consensus on a bill that will grant the Palestinians the right to work on condition that this action will not add any burden to the state of Lebanon ( either through social security, subsidies or through any other funds).
Mashnouk confirmed yesterday that Jumblatt has agreed to withdraw his bill.
What is surprising about Jumblatt's statement to An Nahar is the fact that Mashnouk reiterated today during an interview with LBC TV that both Jumblatt and Aoun have agreed to the proposal presented by al Mustaqbal and its allies in March 14.
Last month , during an extraordinary session of the parliament the Progressive Socialist Party leader proposed a bill that grants Palestinian refugees in Lebanon civil rights and allows them to own property. The bill was referred by Speaker Nabih Berri to the administrative and justice committee to study and submit recommendation to parliament .
Hezbollah and Amal MPs voted in favor of the bill, while the Phalange party , Lebanese Forces and Change and Reform blocs voted against it.
This error message is only visible to WordPress admins
Error: No connected account.
Please go to the Instagram Feed settings page to connect an account.