Lebanon's Tourism Minister: Airport traffic is up 30%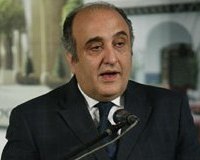 Lebanon's Tourism Minister Fadi Abboud on Sunday denied remarks attributed to him that many tourists had canceled reservations to visit Lebanon following the latest attacks by residents of south Lebanon against the U.N. peacekeepers.
Abboud said he warned the ministers at the last cabinet session that exaggerations over the clashes could lead to a drop in the rate of reservations.
He said Rafik Hariri International Airport is currently welcoming around 15,000 people daily, most of them tourists, a 30% increase over last year.