Israel arrests a Palestinian official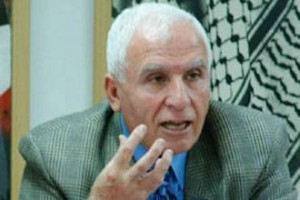 According to Al-Arabiya television Israeli police arrested Fatah official Azzam al-Ahmad in Jerusalem on Tuesday , the day Israeli PM Binyamin Netanyah is meeting with US president Barack Obama, to discuss the improvement of the peace prospects  between Israel and the Palestinians.
Ahmad was arrested at the International Red Cross' office, the report said, without elaborating further.
Azzam is the former Palestinian Minister of Public Works and Housing.
Azzam is also the former Head of the General Union of Palestinian Students (GUPS) in Iraq from 1971-4; deputy head of GUPS Executive Committee from 1974-80; Palestine Liberation Organization ambassador to Iraq from 1979-94. He is also a Fatah-RC member since 1989 and is a member of the Palestinian Legislative Council representing the Jenin Governorate as a Fatah candidate.