Obama tells Netanyahu: Resume talks with Palestinians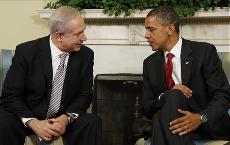 President Obama encouraged Israeli Prime Minister Benjamin Netanyahu today to resume talks with the Palestinians, and said the U.S. would never ask Israel to take any steps that would undermine its security.
Obama, who has had a sometimes-frosty relationship with Netanyahu, said the U.S. bond with Israel is "unbreakable." The president also praised Israel for easing the Gaza Strip embargo, allowing easier movement of consumer goods into the Palestinian area; Obama also cited continuing "tensions" over the blockade.
For his part, Netanyahu said he and Obama discussed "concrete steps to move the peace process forward." He also denounced reports of a U.S.-Israeli rift as "flat wrong," and blamed the news media for disseminating them.
The two leaders did not formally announce resumption of Israeli-Palestinians talks after their Oval Office meeting. Obama said "proximity talks" and "confidence building measures" by all sides will likely have to precede direct talks.
In addition to the Middle East peace process, Obama said the two leaders' private talk covered Gaza, Iran's nuclear program, and nuclear non-proliferation efforts in general.
Obama said he believes Netanyahu is willing to "take risks" for peace and creation of a new Palestinians state. "It's going to be difficult," he said. "It's going to be hard work."
Netanyahu said he wants to "explore the possibilities of peace," and assure security for both Israel and its neighbors. That includes direct talks with Palestinian President Mahmoud Abbas, Netanyahu said.
"At the end of the day, peace is the best option for all of us," Netanyahu said.
Netanyahu had been scheduled to meet with Obama last month, but he canceled after the Israeli raid on a Gaza-bound flotilla.
As Obama and Netanyahu spoke today, protestors against Israeli policies toward Gaza gathered across the street from the White House and chanted, "No More Aid, End the Blockade!"
Israel is particularly troubled by the possibility that Iran may seek nuclear weapons, Netanyahu said. He praised the new U.S. sanctions on Iran, called on all like-minded nations to follow suit.
When an Israeli reporter asked about worsening relations with the U.S., Obama said "the premise of your question was wrong." The president said he has a good working relationship with Netanyahu, and that the U.S. remains committed to Israel's security. USA today