Bassil: Better to keep the oil in the sea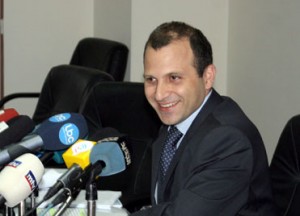 Energy and Water Minister Gebran Bassil pointed out that Syria is demarcating its maritime borders and warned that if Lebanon does not demarcate its borders, Syria will steal part of the Lebanese territories.
He also pointed out that Cyprus has also asked Lebanon to demarcate its maritime borders.
During a press conference Bassil said the oil money may create more political tension and for this reason it is better to keep the oil in the sea instead of wasting the money .
The U.S. Geological Survey estimated a mean of 1.7 billion barrels of recoverable oil and a mean of 122 trillion cubic feet of recoverable gas in the Levant Basin Province using a geology based assessment methodology.
The Levant Basin is surrounded by Lebanon, Israel, Palestine , Cyprus and Syria.
Israel has already discovered a huge deposit of natural gas west of Haifa near the borders with Lebanon. Lebanon is claiming that Israel is stealing Lebanese gas.