MP: UNIFIL's withdrawal gives Israel an excuse to occupy south Lebanon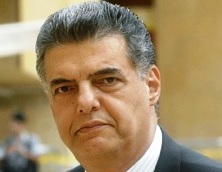 Lebanese MP Atef Majdalani told Future News on Friday that UNIFIL's possible withdrawal from Lebanon gives Israel an excuse to occupy southern Lebanon.
"UN Special Coordinator for Lebanon Michael Williams' statement on Thursday was dangerous and could lead to UNIFIL's pullout from Lebanon," Majdalani said.
"I'm very concerned about the incidents that took place and I know that the Security Council members are also concerned," Michael Williams, the UN special coordinator for Lebanon, told a news conference yesterday .
Protestors pelted stones at UNIFIL vehicles, slightly wounding a peacekeeper in Khirbit Silm, some 18 kilometres (11 miles) from the border.
"Some of these (protests) may have been something spontaneous in the street, but some were clearly organized," Williams said, singling out one incident that he said involved around 100 people.
Majdalani called on the Lebanese Armed Forces (LAF) and UNIFIL to improve their coordination to avoid tension in the South.
"There shouldn't be any armed factions except for UNIFIL and the LAF in Lebanon," Majdalani added.