Egypt won't be pushed into war, says FM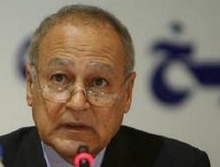 In an interview with the Russia Today television news channel, Egyptian Foreign Minister Ahmed Abul-Gheit said that Egypt would "not give in" to attempts to push it into a war to prove its regional weight.
"Nothing happens in the Middle East without going through Cairo first, due to Egypt's historical status in the region," he said.
On the possibility of a looming regional conflict, Abul-Gheit said that no war would be waged between Israel on the one hand and Iran, Syria and Lebanon on the other–"as long as no side provokes the other."
On Egypt's relations with upstream Nile Basin countries in light of the recent Entebbe water-sharing agreement, the minister said that Egypt was not willing to engage in a war with any African state. "We will continue to work together on preserving our Nile water quota," he said.
On proposed autonomy for southern Sudan, Abul-Gheit said this was for the Sudanese people to decide. "Egypt, however, supports Sudanese unity, and the south should remain within a sovereign Sudanese state in some way," he added.
The FM went on to describe the situation in Iraq as "extremely difficult," calling on Iraqi political leaders to reconcile with one another.
On the Palestinian issue, the minister said that all means of exerting pressure on Israel's right-wing government should be employed, lest all Palestinian land be eventually lost to Israeli territorial expansion. "The Israeli government must choose between peace or decades of conflict," he said.
"An inter-Palestinian accord must also be reached soon so as not to extinguish hope for a Palestinian state," he said, adding that Hamas had approved an Egyptian reconciliation proposal but had subsequently reversed its position.