Top Shiite cleric at hospital with internal bleeding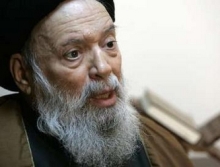 Lebanon's most influential Shiite cleric Grand Ayatollah Mohammed Hussein Fadlallah was hospitalized on Friday due to "internal bleeding," his media office told reporters
Fadlallah "was admitted to hospital with internal bleeding," an official from his media office said, adding that doctors were following up his case. The bleeding was reportedly caused by complications from a liver problem.
From a Lebanese family , Fadlallah was born in the Iraqi Shiite holy city of Najaf on November 16, 1935. He studied Islamic sciences in Najaf before moving to Lebanon in 1952 .
In the following decades, he gave many lectures, wrote dozens of books, founded several Islamic religious schools, and established the Mabarrat Association. Through that association he established a public library, a women's cultural center, and a medical clinic.
He supported the ideals of Iran's Islamic Revolution and advocated the corresponding Islamic movement in Lebanon.