Turkey sets conditions for improved ties with Israel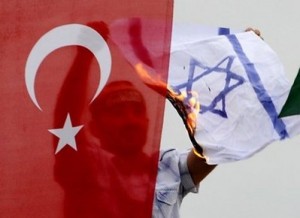 An official says Turkey's foreign minister has laid out the conditions for improved ties with Israel during a secret meeting with the Israeli industry minister.
Turkish Foreign Ministry spokesman Burak Ozugergin says Ahmet Davutoglu met Israel's Binyamin Ben-Eliezer in Brussels on Wednesday. It was the first meeting between Turkish and Israeli government officials since relations soured over Israel's raid on Gaza-bound ships in which eight Turks and a Turkish-American died.
Ozugergin says Davutoglu reiterated Turkey's demands that Israel apologize for the raid, offer compensation to the victims, agree to an international probe and end its blockade of Gaza.
He says the request for the meeting came from Israel. AP