Oil/gas: Dispute over government/parliament bills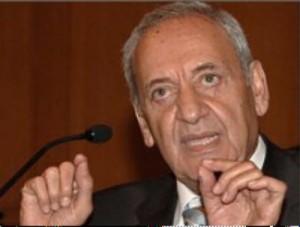 A parliamentary-governmental dispute over oil and natural gas reserves became public on Thursday after Energy and Water Minister Jebran Bassil said the cabinet's bill was better than that of the parliament.
Bassil said during a press conference that work began on the government's bill in 2006. He unveiled that he has been working on it with a specialized team that has received training in Norway as part of the oil for development program.
Bassil expressed belief that the ministry's proposal was better than the bill proposed by MP Ali Hassan Khalil.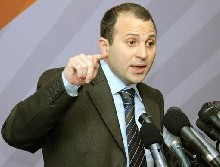 Earlier in the week, a dispute emerged during the meeting of joint parliamentary committees over the bill.
Speaker Nabih Berri seems adamant to continue discussions on it without hinting that there are differences between him and Premier Saad Hariri over the dispute which led to a lack of quorum during the committees' meeting, An Nahar said Friday.
The bill "will remain alive because it deals with a vital and sovereign cause," Berri told the daily. "Lebanon has the full right to benefit from this wealth in oil and gas fields."
While he denied there were differences between him and Hariri, the speaker said: "I am afraid of and warn from the ongoing procrastination."
Asked about threats by Israel that it would not hesitate to use force to protect the fields, Berri said: "The best response is to speed up adoption of the oil exploration bill."
He wondered why the proposal would meet opposition given that he was attempting to guarantee the best way to pay off Lebanon's debts.
Israeli threats
Israeli National Infrastructure Minister Uzi Landau responded to the Lebanese claims during an interview with Bloomberg, saying Israel would use force to defend the oil and gas reserves off its northern coast.
"We will not hesitate to use our force and strength to protect not only the rule of law but the international maritime law," Landau said. "Whatever we find, they will have something to say. That's because they're not challenging our findings and so-called occupation of the sea. Our very existence here is a matter of occupation for them. These areas are within the economic waters of Israel."
Hariri
Addressing the issue of drilling for oil in the Mediterranean, Hariri said in Tunis on Friday at the end of his two-day trip: "Israel has nothing else to do but threaten and intimidate the Lebanese."
He added that Israel does not hold any goodwill towards the Arabs, who only seek peace.
"The stability in Lebanon is what's threatening Israel," he concluded. Naharnet/Ya Libnan