Hariri: Israel has nothing else to do but threaten Lebanon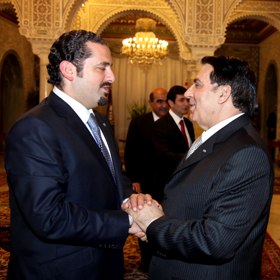 Lebanese Prime Minister Saad Hariri and Tunisian President Zine el-Abidine bin Ali stressed on Friday the importance of moderation, diversity, and dialogue that bind Lebanon and Tunisia.
Hariri stressed after meeting bin Ali in Tunisia the need to strengthen Lebanese-Tunisian ties.
Addressing the issue of drilling for oil in the Mediterranean, Hariri said from the airport at the end of his trip: "Israel has nothing else to do but threaten and intimidate the Lebanese."
He added that Israel does not hold any goodwill towards the Arabs, who only seek peace.
"The stability in Lebanon is what's threatening Israel," he concluded.
During his trip, Hariri held talks with bin Ali on regional and international developments.
He also held a meeting with his Tunisian counterpart Mohammed Ghannouchi on international and Arab developments, and ways to bolster bilateral ties through the different economic and commercial fields.
Accompanying Hariri on his trip were Culture Minister Salim Wardeh, former minister Bassem Sabaa, and his advisors Mohammed Shatah and Hani Hammoud.
Oil/ gas
In a related development Hezbollah official in the South Sheikh Nabil Qaouq stressed Friday Lebanon's right to every drop of petroleum off its shores, saying: "It's the Lebanese' duty to defend this right because it is a defense of Lebanon's sovereignty."
He added: "A delay in approving a law on investing in Lebanon's petroleum serves Israeli goals," which the United States is trying to fulfill through Lebanon. Naharnet