Iran intends to build four new nuclear reactors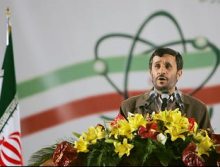 Just a week after the United Nations imposed a fourth round of sanctions on the Islamic Republic, officials said that Tehran was determined to supply its own nuclear plants with domestically manufactured uranium fuel.
The announcement appeared to mark the death knell for diplomatic efforts to supply the country's only functioning nuclear plant with fuel processed in France and Russia.
A compromise proposed in October would have seen Iran swap uranium from its stockpile for foreign made fuel rods under stick conditions that would have reduced the risk of a nuclear bomb being produced.
President Mahmoud Ahmadinejad, Iran's hardline president, said that Iran was determined to maintain its nuclear programme despite the ruinous effects of sanctions on the country's economy.
"You showed bad temper, reneged on your promise and again resorted to devilish manners," he said of the powers that imposed sanctions. "We set conditions (for talks) so that, God willing, you'll be punished a bit and sit at the negotiating table like a polite child,"
Mr Ahmadinejad, a champion of the nuclear work, told a crowd of loyalists that Tehran would not be defeated by the latest round of sanctions which targeted financial transactions and travel by senior military figures. He said: "If they think they can use sticks to pressure Iran, we say that the Iranian nation will break all of their sticks."
Since the worldwide sanctions regime was strengthened both America and Europe have sought to tighten restrictions on bilateral commercial ties with Iran. Timothy Geithner, the US treasury secretary last night announced the department was prepared to impose a series of measures that implemented and built upon the Iran sanctions resolution passed by the UN.
An EU meeting in Brussels today (Thurs) will agree to impose extra penalties on transport, banking, insurance, technology transfers and the oil industry.
But Tehran has been defiant in the face of such pressure.
Another senior figure threatened to retaliate by disrupting the highly sensitive shipping lanes of the Gulf and other waters around Iran. Ali Larijani, the parliament speaker, said Iranian forces would not allow "bullying powers" to police its sea-borne trade. He said: "We warn the US and some adventurist countries that should they be tempted to inspect consignment of Iranian planes and ships, they should rest assured that we will reciprocate [against] their ships in the Persian Gulf and Oman Sea."
Iran announced it had begun enriching uranium up to the 20 per cent threshold that would allow it to produce a weapon earlier this year.
Ali Akbar Salehi, head of Iran's Atomic Energy Organisation, said that the four plants would replace the Tehran Research Reactor (TRR). Built in 1973, the TRR is used to supply Iranian hospitals with equipment for radiography departments.
Turkey and Brazil attempted to revive the October offer to Iran in the days before sanctions were strengthened but that arrangement fell short of international demands.
Mr Salehi went further than past official pronouncements by revealing Tehran had ambitions to export nuclear fuel for medical use to other Islamic nations.
Diplomats said that even if the plants were never built the development was worrying because it gave Iran an excuse for continuing to produce highly refined uranium from its stockpile.
Western officials believe Iran is determined to produce enough material for a nuclear weapon before it agrees to make concessions to ease sanctions. One diplomat said there was concern that Iran had also spurned offers to supply nuclear fuel from commercial firms that manufacture nuclear rods in favour of developing its own capability. telegraph