U.S. dispatches a delegation of top executives of HI-TECH firms to Syria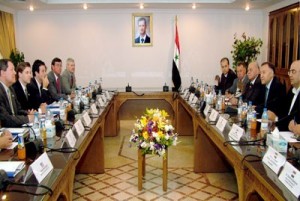 The U.S. State Department has dispatched a high-level diplomatic and trade mission to Syria, according to senior U.S. officials, marking the latest bid by the Obama administration to woo President Bashar al-Assad away from his strategic alliance with Iran.
The U.S. delegation comprises senior executives from some of America's top technology companies, including Microsoft Corp., Dell Inc., Cisco Systems Inc. and Symantec Corp., according to the U.S. officials. All these companies' businesses in Syria are constrained by U.S. sanctions.
The mission is controversial, given recent U.S. allegations that Syria transferred missiles to the Lebanese militant group Hezbollah. Syria, Hezbollah and Lebanon deny the allegations.
U.S. officials said the business delegation will meet with Mr. Assad and his cabinet and seek to facilitate the flow of information technology into the Arab state, which is ranked by watchdog group Freedom House as among the most repressive in the world.
The delegation will also meet with Syrian businessmen, members of the country's civil society and travel to two leading Syrian universities in a four-day stay, ending Thursday.
Mr. Assad has previously expressed to the Obama administration his desire to develop Syria's telecommunications infrastructure, which has been imperiled by U.S. sanctions since 2004, according to American officials involved in the trip.
The State Department views the mission as a test of Mr. Assad's desire for better ties with Washington and to potentially pave the way for a more open political environment inside Syria.
"We're going into this open-minded. This has never been done before with a country of this nature," said a senior U.S. official. "We're hopeful and optimistic that this will lead to collaborations. But that's something we can't be sure about until the trip is done."
The delegation is being led by Secretary of State Hillary Clinton's point man on global promotion of Internet freedoms, Alec Ross.
Some lawmakers and Syrian human-rights activists criticized news of the State Department's mission Monday.
These lawmakers and activists said Mr. Assad hasn't responded to almost any of the policy requests made of him by the U.S. since President Barack Obama announced a policy shift toward engaging Damascus last year. They cited, in particular, Syria's continued financial and arms support for militant groups operating in Lebanon and the Palestinian territories. They also cited Damascus's refusal to cooperate with United Nations investigators looking into Syria's alleged development of weapons of mass destruction.
Some Syrian activists also voiced concern that Damascus's repression of political opponents could grow if the government develops more sophisticated technologies.
"I think the administration is fooling itself it believes that this type of engagement will bring about a more democratic Syria," said Ammar Abdulhamid, a Syrian dissident based in Washington. "Assad has shown absolutely no signs of loosening his grip on society, and in many ways he's gotten worse."
Mrs. Clinton has made the spread of information technology a cornerstone of her foreign-policy mandate, arguing it can aid the global development of democracy and civil society.
In recent months, the Obama administration has taken steps to ease exports of certain types of telecommunications equipment and antifiltering software that were previously banned from entering countries such as Iran, China and Sudan out of concern they would be used as tools of government oppression.
Syria is Iran's closest strategic and diplomatic ally. U.S. officials have publicly voiced their interest in driving a wedge between the two, in part by appealing to Mr. Assad's desire to modernize his economy.
U.S. sanctions ban the sale of virtually all high-technology equipment and parts to Syria. But the legislation provides the White House with waiver powers that can allow U.S. companies to sell certain products to the Syrian market.
Over the past year, U.S. officials said they have facilitated the sales of spare airplane parts to Syria's national carrier as part of the process. Members of the current U.S. mission to Syria said it is aimed at assisting companies such as Microsoft and Cisco to more easily enter the Syrian market.
Opposition among Republicans on Capitol Hill toward the Obama administration's engagement policy with Syria remains strong. A number of leading Republican senators have threatened to place a hold on the White House's nominee for ambassador to Syria, Robert Ford, until they are given a clearer reading on Syria's alleged arms transfers of missiles to Hezbollah.
U.S. officials said they briefed lawmakers in Congress ahead of the trip and believed the State Department had their support.WSJ
SANA's report
According to SANA, the governmnet owned Syrian News Arab Agency, Minister of Higher Education Dr. Ghiath Barakat met with the delegation representing US information technology and discussed developing cooperation in education and training,
He also said that the government seeks to integrate informatics in state jobs by making the ICDL (International Computer Driving License) a requirement for work applicants.
For their part, the representatives of Microsoft, Cisco Systems, Symantec, Dell and VeriSign expressed desire to develop cooperation with Syria in the field of informatics, stressing the need to focus attention on the youth.
The two sides also discussed the possibility of establishing centers for these companies in Syria.
During the meeting, deans of informatics faculties at Syrian universities talked about the main requirements needed by their colleges in the field of technology and training to keep up with current challenges in this regard.
On Tuesday, the delegation met Deputy Prime Minister for Economic Affairs Abdullah al-Dardari who urged American companies to invest in Syria and benefit from the opportunities available in his country.
Photo: Syria's Minister of Higher Education Dr. Ghiath Barakat with the US delegation