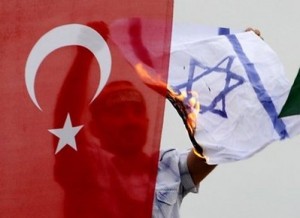 U.S. lawmakers warned Turkey on Wednesday that its ties with Washington would suffer if it continued on what they considered an anti-Israel path.
"There will be a cost if Turkey stays on its present heading of growing closer to Iran and more antagonistic to the state of Israel," Representative Mike Pence, the No. 3 Republican in the U.S. House of Representatives, said.
At a news conference, Republicans and Democrats denounced NATO ally Turkey for supporting an aid convoy of ships that recently tried to run the Israeli blockade of Gaza.
The lawmakers also criticized Turkey's opposition to a recent U.N. Security Council resolution extending punitive sanctions on Iran for its secretive nuclear program. The U.N. resolution was strongly backed by Washington, which suspects Iran of trying to develop atomic bombs.
Democratic Representative Eliot Engel called Turkey's actions "disgraceful," adding that although Ankara was a member of NATO, it had stopped looking westward.
As for the cost Turkey might pay for its stance, Pence said he was ready to reevaluate his past reluctance to support a congressional resolution denouncing as genocide the World War I-era killings of Armenians by Ottoman forces.
The largely symbolic resolution passed a House committee in March, but amid protests from Ankara, the House Democratic leadership never brought it to the chamber's floor for a vote.
The lawmakers said on Wednesday that 126 members of the House of Representatives had signed a letter urging President Obama to oppose international condemnation of Israel over its role in seizing the aid ships last month and forcing them to dock in Israeli ports.
Nine people were killed aboard one vessel, the Turkish-registered Mavi Mara, provoking an international outcry. Israel says its commandos acted in self-defense.
One pro-Israel lobby group in Washington, J Street, took a different view, suggesting some lawmakers' statements about the Gaza flotilla were "drafted primarily for domestic political consumption" instead of advancing Middle East peace.
The group's president Jeremy Ben-Ami urged U.S. lawmakers to express "more nuanced views of the situation that might emphasize the urgency of American leadership to end the Israeli-Palestinian conflict through two states." Reuters
Photo: A demonstrator burns an Israeli flag as he sits behind a Turkish flag during a protest against Israel on June 5, at Caglayan Square in Istanbul. US lawmakers slammed Turkey on Wednesday over its ties to Iran and for its stance on Israel
This error message is only visible to WordPress admins
Error: No connected account.
Please go to the Instagram Feed settings page to connect an account.