Israel promises to ease Gaza blockade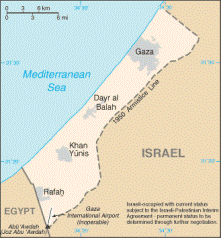 Former British PM Tony Blair announced today that Israel would agree to re-open crossings into Gaza for everyday goods within days, bringing to an end its strict three-year crackdown on supplies.
The Middle East envoy said that Binyamin Netanyahu, Israeli Prime Minister, had agreed in principle to change its current approach — deemed illegal today by the International Committee for the Red Cross (ICRC) — by drawing up a list of specifically prohibited items to replace the current narrow list of permitted goods.
Mr Blair also welcomed Mr Netanyahu's announcement last night of an inquiry into its bloody storming last month of an aid flotilla.
Israel has appointed Lord Trimble, the former First Minister of Northern Ireland, as one of two international observers to its inquiry being held by a senior Israeli judge.
The Times understands that Mr Blair recommended Lord Trimble for the role.
Mr Blair this morning briefed EU foreign ministers on Israel's shifting policy towards Gaza in the wake of the flotilla raid on May 31 which left nine Turkish men dead.
The 27 foreign ministers are still considering their official reaction to the proposed inquiry, with some countries favoring a more independent probe than that announced by Israel.
"The issue of the inquiry continues to be an issue of strong political debate…but the Israeli inquiry is obviously a significant step forward," said Mr Blair as he left the meeting in Luxembourg.
"In respect of the closure policy, I hope very much that in the next days we will get the in-principle commitment that we require, but then also the steps beginning to be taken.
"Some of these issues, drawing up the negative list, that will take some time. But we hope very much we can start getting stuff into Gaza.
"There are also a whole series of UN projects which are ready to go. The UN has a specific way of getting material in – we are talking about repairing schools, the electricity, water, sanitation, housing, we can get that under way very quickly I believe."
Mr Blair added: "I hope that…while Israel will maintain the blockade in respect of weapons and combat material coming into Gaza, we change the situation so that those goods that are necessary for ordinary civilian life are brought into Gaza as a matter of course.
"In other words, we change from the so-called permitted list of items where things only come in if they on that list, to the prohibited list where goods come in unless they are on that list. This is a significant change."
One EU diplomat said that, while no final decisions had been made, there were positive indications that Israel might be willing to open either the Karni or the Kerem Shalom border crossings for large-scale imports into Gaza. The diplomat said Israel rejected a proposal for cargo to be delivered by ships checked in a third location such as Cyprus.
Israel's blockade policy, which began shortly after Hamas won Palestinian legislative elections in 2006, was greatly increased after Hamas seized control of Gaza in June 2007.
A retired Israeli supreme court judge, Yaakov Turkel, will chair the inquiry "to investigate aspects related to the actions taken by the state of Israel to prevent vessels reaching the coast of Gaza on May 31," the office of Mr Netanyahu said yesterday. The Israeli Cabinet will be asked to approve the "special independent public commission" today.
Lord Trimble, who won the Nobel Peace Prize for his role in striking the Good Friday agreement, will be one of two foreign observers, the other being Ken Watkin, a former chief prosecutor of the Canadian armed forces and retired brigadier general.
Turkey and others have demanded an independent international inquiry, without Israeli involvement, while the Obama Administration has pushed for Israel to include foreigners in its own investigation.
The US ambassador to the UN, Susan Rice, said yesterday that while the United States believed that Israel could conduct a "credible and impartial" investigation, an "international component" would "buttress its credibility in the eyes of the international community".
Jeremy Hobbs, Executive Director of Oxfam International, said a major overhaul was needed in the embargo policy, not just allowing in a few extra basics. "In the days following the flotilla tragedy, Israel has allowed in an increased number of food items such as coriander, jam, biscuits and other sweets. While this is certainly welcomed, what Gaza needs most are jobs, raw materials for reconstruction and for industry, and the ability to export – not just short-term aid and consumer products like jam that, without a job, they can't afford to buy," he said.
"The civilian population has been kept just above the bar of a humanitarian crisis. It is trapped in a crisis of dignity that the international community must help resolve".
Much of Gaza's buildings and infrastructure, already run-down after years of blockade, collapsed during Israel's month-long offensive in December 2008 to stamp out militant rocket fire from the enclave.
After the war, the international community pledged billions of dollars in reconstruction aid, but the money was never spent because Israel refused to allow any building material to enter, saying it could be used by Hamas for fortifications.
Critics have called the Israeli closure a collective punishment against all Gaza's civilian population, even an ongoing act of economic warfare to crush Hamas. For the first time today, the ICRC, a neutral organization that works in some of the most sensitive conflicts in the world, labeled the Israeli blockade illegal.
"The whole of Gaza's civilian population is being punished for acts for which they bear no responsibility. The closure therefore constitutes a collective punishment imposed in clear violation of Israel's obligations under international humanitarian law," the ICRC said.
It also called for Hamas to allow it access to the Israeli soldier it has been holding captive for four years, something the Islamists have so far refused. Times