MP Fatfat resigns from his official duties at Future bloc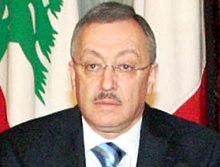 During a press conference on Monday , Future bloc MP Ahmad Fatfat told reporters that he submitted his resignation to Lebanon's Prime Minister Saad Hariri from all his official duties.
Fatfat said he accepts full responsibility for the mistakes that took place in the Minieh-Donniyeh parliamentary by-elections.
Fatfat who represents Minieh-Donniyeh in the parliament also said that he had wanted to resign two weeks ago, but decided to delay the announcement of his resignation until after the by-elections.
National News Agency (NNA) reported on Sunday that based on initial results Future bloc candidate Kazem al-Kheir won the Minieh-Donniyeh parliamentary by-elections with a total of 11,200 votes. His opponent, Kamal al-Kheir, received a total of 7,809 votes.
The Ministry of interior officially confirmed today that Kazem al-Kheir is the winner.
Update: In a detailed report presented to Hariri and former PM Fouad Siniora , Fatfat cited the following reasons for his resignation:
-The inability of the Future Movement's supporters to keep pace with the group's "political project" because of the prevailing feeling that there has been no clarity about the Future Movement's political line since the 2009 parliamentary elections; delay in the restructuring of the Future Movement; and a letup in the public services.
Fatfat said his resignation was also meant to be "an appeal to all Future Movement officials to realize that there are mistakes that need to be addressed quickly."
Fatfat in is press conference also cited what he called "a political ambush" by the March 8 factions during last month's municipal elections in his hometown of Seer in the Donniyeh district, and "mistakes" by the Future Movement for his decision. He added that he was subjected to "a campaign of false allegations and even insults" by his political opponents.