Obama announced $400 million aid package for Gaza,West Bank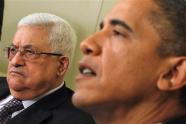 President Barack Obama called on Wednesday for sharply limiting Israel's blockade of the Gaza Strip in the wake of the botched Israeli naval raid that's straining U.S. and Israeli relations with allies around the world.
The White House also announced a $400 million aid package for Gaza and the West Bank.
"The situation in Gaza is unsustainable," Obama declared as he met with Palestinian President Mahmoud Abbas in the Oval Office. He said the attention of the world is on the problem because of the "tragedy" of the Israeli raid that killed nine people trying to bring in supplies.
Obama called for narrowly tailoring Israel's broad blockade on goods entering the Gaza Strip so that arms are kept out, but not food, building materials or other items needed for the Palestinians' daily life and economic development.
"The key here is making sure that Israel's security needs are met but that the needs of people in Gaza are also met," said Obama.
"So if we can get a new conceptual framework … it seems to me that we should be able to take what has been a tragedy and turn it into an opportunity to create a situation where lives in Gaza are actually, directly improved."
The approach marked a shift although it stopped well short of meeting international calls for an end to the 3-year-old blockade, which Israel says is needed to keep arms away from the militant Hamas movement that controls Gaza. Critics say the blockade is ineffective and causes undue suffering. Obama said the U.S. would discuss the new approach with European leaders, Egypt, Israel and the Palestinian Authority. AP