Putin: Blue Stream II Gas pipeline unlikely to go to Israel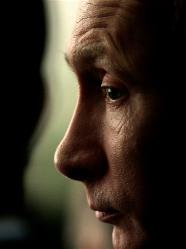 Russian Prime Minister Vladimir Putin said Tuesday that a new natural gas pipeline to Turkey would probably not extend to Israel as originally planned but he denied the change was a result of deteriorating relations between the two countries.
Turkey shelved discussions on extending the Blue Stream II pipeline to Israel after last week's deadly raid by Israeli commandos on a Gaza-bound aid ship operated by a Turkish charity.
Putin said the pipeline could still supply gas to countries such as Lebanon and Syria but it would not need to go to Israel, which has recently discovered natural gas off its coast.
Putin said Russia's decision was not linked to the "tragic incident" in international waters which left nine pro-Palestinian activists dead as the aid ship attempted to break Israel's blockade on Gaza.
"Blue Stream II most likely will not be extended to Israel for purely financial reasons," Putin said on the sidelines of a security summit here. "They simply don't need it."
A U.S. energy company predicted last week that Israel will have enough natural gas to export to Europe and Asia from the offshore field it is developing. The Houston, Texas-based Noble Energy said the Leviathan natural gas field may hold up to 16 trillion cubic feet of natural gas. Noble raised estimates for the neighboring Tamar field to 8.4 trillion, a 33 percent increase. The production is expected to start in 2012.
Putin is in Istanbul to attend a 22-nation group's security summit. Turkey is seeking condemnation of Israel at the meeting.
In Israel, the Foreign Ministry spokesman Yigal Palmor said there was never a concrete deal and that talks never got close to a final stage.
Another Israeli official, speaking on condition of anonymity because he was discussing a sensitive diplomatic matter, said the talks were frozen months ago after the discovery of the large natural gas field off Israel's coast. The field is expected to yield enough gas to meet Israel's domestic needs and to export to Europe.
The flotilla raid prompted a worldwide outcry and growing demands that Israel ease or lift the blockade that has been in place since 2007 as a means of pressuring Hamas, which controls the territory. Under the blockade, most exports from Gaza are banned, further hurting its economy.
Israel imposed the blockade three years ago to isolate and punish Gaza's Hamas rulers and to prevent weapons from reaching the group.
Israel says naval commandos trying to prevent the ships from reaching Gaza began shooting only after a mob of activists attacked them.
Putin expressed support for an independent investigation of the road, saying "it has to be investigated specially."
Israel has rejected calls for an international probe, saying it would be biased against the Jewish state. AP