Helen Thomas has no right to 'free speech'
Anyone in America can belittle the Arabs and abuse the Mulsims but when the The Lebanese-American journalist Helen Thomas says anything, everyone forgets the "right to free speech".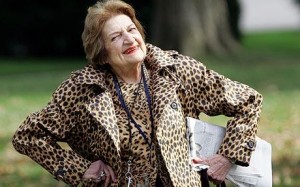 Priests have a right to malign Islam. Pastors can abuse Muslims. Congressmen can belittle Arabs. However when Helen Thomas says anything, everyone forgets the "right to free speech".
It seems hypocritical that the same forces who are for cartoons, and abuse of prophets all of a sudden have an aversion to free speech. It seems that free speech is only for those who want to speak up against Muslims.
Rabbi David Nesenoff, who was at the White House for a Jewish heritage celebration on May 27 and simply asked the Hearst Newspapers columnist, "Any comments on Israel?" Her response — that Israeli Jews should "get the hell out of Palestine" and "go home" to Germany, Poland and America — triggered a wave of denunciations that a narrowly worded apology did little to quell.
While the 89-year-old Thomas is renowned as a trailblazer who aggressively questioned 10 presidents — including President Obama, whom she pressed last month on Afghanistan — her hostility toward Israel has been no secret within the Beltway. Though she gave up her correspondent's job a decade ago, she retained her front-row briefing-room seat
She is the most famous woman ever to cover 1600 Pennsylvania Ave. and served as the first female president of the White House Correspondents' Association, which on Monday called her comments "indefensible." Thomas has written several books about the White House and played herself in the movies "Dave" (1993) and "The American President" (1995).
In 2000, when Thomas resigned from United Press International after it was bought by News World Communications, a company controlled by officials of the Unification Church, Dan Rather called her "a hero of journalism."
During George W. Bush's administration, Thomas became an icon for some liberals who applauded her outspoken opposition to the Iraq invasion and cast her as tougher than the reporters who failed to skeptically question the march to war. Ari Fleischer, who was Bush's first press secretary, led the campaign for her ouster over the weekend, e-mailing journalists who might have missed her remarks.
In 2002, Thomas asked Fleischer: "Does the president think that the Palestinians have a right to resist 35 years of brutal military occupation and suppression?"
Four years later, Thomas told Fleischer's successor, Tony Snow, that the United States "could have stopped the bombardment of Lebanon" by Israel, but instead had "gone for collective punishment against all of Lebanon and Palestine." Snow tartly thanked her for "the Hezbollah view."
Mark Rabin, a former freelance cameraman for CNN, said that in a 2002 conversation at the White House, Thomas said "thank God for Hezbollah" for driving Israel out of Lebanon, adding that "Israel is the cause for 99 percent of all this terrorism."
The Daily Caller Web site noted that during a 2004 speech to the Al-Hewar Center, a Washington-based Arab organization, Thomas likened Palestinian protesters resisting the "tyrannical occupation" by Israel to "those who resisted the Nazi occupation."
Sam Donaldson, a former White House correspondent for ABC, said Thomas was a "pioneer" for women, "and no one can take that away from Helen." While not defending her comments on Israel, he said they likely reflect the view of many people of Arab descent.
Donaldson, 76, who retired last year, was asked whether his friend, who started on the beat in 1960, had stayed too long.
"Her life was her work," Donaldson said. "She didn't have other interests. The thought that she'd give it up never entered her mind." Agencies. Washington Post. Staff writer Jenna Johnson contributed to this report.