Freedom Flotilla: Putin calls Israeli raid a 'crude violation of international law'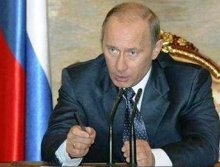 Russia's Prime Minister Vladimir Putin said Tuesday his country would raise the issue of an investigation into the Israeli boarding of an aid ship off Gaza at the United Nations, calling the Israeli action "a crude violation of international law."
Speaking at security summit of Eurasian leaders in Istanbul, Mr. Putin also said that U.N. Security Council sanctions against Iran over its nuclear-fuel program were "practically agreed upon."
Turkey was seeking to have leaders at the summit condemn Israel over the raid in a joint statement Tuesday, but with Israel attending in the form of its ambassador to Ankara and wielding a veto, that appeared unlikely.
Still, support for Turkey's position was evident among leaders who included President Mahmoud Ahmadinejad of Iran and Mahmud Abbas, leader of the Palestinian Authority and Syria's Bashar al-Assad. Mr. Putin also supported Turkey's view of the clash, saying that the fact it occurred in international waters was cause for concern and calling for an end to Israel's blockade of Gaza.
"The loss of peaceful civilians has caused a new exacerbation of the situation [in the Middle East]," Mr. Putin said. "We are deeply worried by such a crude violation of the universally recognized norms of international law."
Turkey wants an independent international investigation of the events, while Israel supported by the U.S.—has said it will conduct the investigation itself, due to concern that any international probe would be biased against Israel. Israel appears to remain open to some form of international participation in the investigation.
Nine people died on board the Turkish owned Mavi Maramara last week, when Israeli commandoes boarded the ship opening fire with live ammunition in the brawl that followed.
Mr. Putin also confirmed that the planned Blue Stream II natural-gas line that would run across the Black Sea from Russia to Turkey will no longer have an extension to Israel as planned—a changed announced by Turkey last week in response to the Mavi Marmara deaths. However, Mr. Putin said this was due to commercial rather than political causes, noting that Israel is developing its own offshore natural-gas fields that are expected to have sufficient gas to export.
Mr. Putin didn't back Turkey's position on Iran. Turkey and Brazil negotiated a deal last month under which Iran would transfer part of its stockpile of low enriched uranium to Turkey, which would hold it while another country made bars of medium enriched uranium for an Iranian medical reactor. In the meantime, Turkey says, the U.N. Security Council, of which Turkey and Brazil are currently members, should hold off imposing fresh economic sanctions on Iran.
Mr. Ahmadinejad said at Tuesday's summit that the Turkish deal was a one-off. Iran has said repeatedly that the deal will be off the table if the U.N. imposes fresh sanctions against Tehran. "We say that this opportunity will not be repeated," he said.
The Turkish deal was similar to one endorsed by the U.S. and other Security Council members last October, aimed at setting back any Iranian effort to enrich fuel to weapons grade. But the U.S., France, the U.K., Germany and Russia say that agreement is no longer sufficient, because Iran has since made more low-enriched uranium and has said it would use it to make medium-grade fuel of its own.
Western countries believe Iran is developing enrichment technology with a view to building weapons, a charge Iran denies. The head of the International Atomic Energy Agency, the U.N.'s nuclear watchdog in Vienna, on Monday reiterated that while it has no proof Iran is building weapons, Tehran hasn't yet cooperated sufficiently to allow the agency to certify its program as peaceful. He described Iran as a "special case."
Mr. Putin said Tuesday that new U.N. sanctions shouldn't punish ordinary Iranians or prevent Iran from developing a civilian nuclear power program. He said Iran's first nuclear power plant, a Russian-built reactor at Bushehr, should go live in August. Russia signed a contract to build the Bushehr plant in 1995, but has been delaying completion, citing technical reasons.
"They must be careful not to side with enemies of the Iranian nation," said Mr. Ahmadinejad of Russia. "They should make a choice." AP