Canadian activist: No weapons on board of Freedom Flotilla
Canadian activist Kevin Neish disputed Israeli claim , says there were no weapons on board of Freedom Flotilla." A picture is worth a thousand words". He hid the memory card in his underwear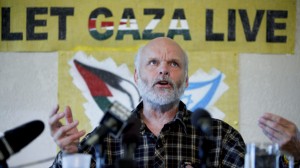 A Canadian activist detained when Israeli soldiers raided a flotilla of ships off the Gaza coast says he smuggled photos of the raid off the ship by hiding his memory card in his underwear and other parts of his body.
Some of Kevin Neish's photos were published Monday in the Turkish English-language newspaper, Hurriyet, and other media outlets throughout the Muslim world.
"I hid it here, there and everywhere," Neish, who arrived back in Victoria on the weekend, said at a news conference Monday.
"In my pocket, in my hand. It was quite a dance. It was in my mouth. It was in my underwear, the cheeks of my ass. It went all over the place."
Official reports say nine people lost their lives last week when the Israeli's boarded the Turkish ship Mavi Marmara, part of a flotilla of ships bound for supplies to Gaza, which is currently under an Israeli blockade.
Neish said he believes 16 people died in the raid.
"A lot of my pictures were gruesome," he said. "People with holes in them."
Neish said he handed the photo card over to the Turkish aid group, IHH, which offers humanitarian aid to Gaza. He said he saw the photos but didn't want to keep them even though he was told he could make money selling them to media outlets.
The bloodiest of the photos published by Hurriyet show a bleeding Israeli soldier surrounded by activists. There are no pictures of dead bodies or wounded people.
Neish said the people on the ship were helping the soldier.
One photo published by the Turkish daily shows two men with metal bars standing in front of a closed door. Neish said it was taken moments after an Israeli soldier opened the door and fired a barrage of bullets into the room.
He said he decided to hide his photo card when he saw Israeli soldiers destroying other activists' cameras.
"I got my chip out of my camera," he said. "I pitched a lovely expensive camera away so that nobody thought I had a camera. I threw everything away that was associated with cameras."
Neish said he was not stripped or body searched when he was finally permitted to leave the ship after spending 12 hours in the bottom of the vessel with hundreds of Turkish activists.
The convoy of several ships were en route to Gaza with aid supplies, in defiance of an Israeli blockade. The naval blockade was imposed more than three years ago in an effort to prevent weapons smuggling to Hamas, which controls the territory.
Neish was one of three Canadians detained in Israel — Rifat Audeh of St. Catharine's, Ont., and Farooq Burney were also arrested and later released.
"When I came off the ship they were flabbergasted to see me at the dockside," said Neish. "They sort of forgot about really giving me the third-degree and they didn't strip search me and they didn't do a body cavity search. Because of that, I managed to sneak the chip out."
Neish said he saw many badly injured people and two dead people with what he says were small-calibre bullet holes in their heads, leading him to believe they were executed.
"It was a steady stream of dead bodies and gruesomely injured people," he said. "It sounds like out of a movie, but the decks were dripping with blood."
Israeli officials have said some activists attacked the soldiers first, and released video that appears to show some activists moving violently toward the soldiers. They said the video footage proves their commandos acted in self-defence.
Neish disputes that.
He said there were no weapons on board other than chains and pieces of metal and wood, which he admitted were used by the people on board once the confrontation began.
"They were humanitarian aid workers is what they were," he said. "A lot of them were pot-bellied fellows, balding, glasses, looked a lot like me. They weren't fighters."