Turkey:Israel can't 'face the facts' on Gaza raid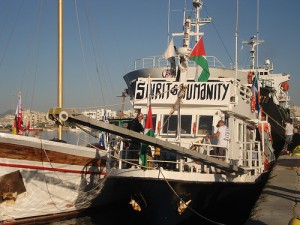 Israel's resistance to an independent, international investigation into its deadly raid on a Gaza-bound aid ship is "another proof of their guilt," Turkey's foreign minister said Sunday.
Speaking on CNN's "Fareed Zakaria GPS," Turkish Foreign Minister Ahmet Davutoglu compared last week's the storming of the aid ship Mavi Marmara to pirate raids off Somalia. The raid killed nine Turkish pro-Palestinian activists, including one with Turkish-American dual citizenship, and left several Israeli troops wounded.
"We want to know the facts," Davutoglu said. "If Israel rejects these, it means it's also another proof of their guilt. They are not self-confident to face the facts. We are ready."
Davutoglu said Sunday, "Nobody has the right to kill our citizens." He said just as Israel has made an "important case" for the return Gilad Shalit, an Israeli soldier held in Gaza since 2006, Turkey has a right to know "why our nine civilians were killed in international waters."
"This is a very good question, and we will ask this question all in international forums," he said.
The Mavi Marmara was the largest ship among a flotilla of six that tried to run the Israeli blockade of Gaza, the Palestinian territory ruled by the Islamic militant group Hamas. The U.N. Security Council has called for an inquiry into the flotilla raid, and the U.N. Human Rights Council has condemned the assault and voted to launch an investigation.
Israeli officials have defended the legality of the raid, criticizing those aboard the Mavi Marmara for attacking the boarding party and insisting they can handle the investigation themselves.
"The Human Rights Council has already said Israel is guilty," Foreign Ministry spokesman Andy David told CNN on Sunday. "Isn't that a case of the carriage coming before the horse? We are used to those kinds of decisions."
But David said Israel "has nothing to hide," and said any international probe should look at "all parties involved … not just Israel, but those who organized the flotilla."
Turkey is a member of NATO and an ally of Israel, but the raid has strained ties between the two nations. Davutoglu said Turkey and Israel remain allies, "but we have problems with the existing Israeli administration and policies."
"Turkey was one of the first countries recognizing Israel," he said. "But now we cannot tolerate the policies of tension, the policies of blockade against Gaza, the policies of punishment — collective punishment of the Palestinian people — and the policy of attacking civilians in international sea, international waters. That, we cannot tolerate."
The United States, a NATO member and Israel's closest ally, has said it wants a "prompt, impartial, credible and transparent" probe, as Secretary of State Hillary Clinton put it — but hasn't backed an international investigation.
"We support an Israeli investigation that meets those criteria," Clinton said last week. CNN