Turkey: 'Israel is about to lose" best friend in the region'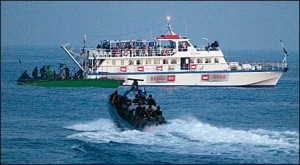 Israel must apologize for killing nine Turkish citizens in its raid on a Gaza aid flotilla this week or face the prospect of losing Turkey as its best friend and ally in the region, Ankara's envoy to Washington warned Friday.
"Israel cannot find any better friend in this region than Turkey, and Israel is about to lose that friend," Turkey's Ambassador to the United States Namik Tan told journalists Friday.
The Israelis "have isolated themselves into a box," Tan said.
Tan, who previously served as Turkey's envoy to Israel, also called on Israel to provide compensation to the victim's families, and to accept an independent, international investigation of the flotilla violence.
The diplomat's demands show an increasingly assertive Turkey more than willing to engage in diplomatic brinksmanship with Israel in the capital of Israel's strongest supporter.
While Turkey has long enjoyed support in Washington pro-Israel circles, new strains have emerged in Washington as Israeli-Turkish tensions have flared. While much of the world has blamed Israel for its role in the flotilla raid, the Obama administration has refrained from assigning blame for the episode, while American lawmakers have issued statements accusing the flotilla activists of provoking the violence, and chastising Turkey for failing to calm down tensions with Israel in its aftermath.
"The sad truth is that we treat Turkey like an ally, while the rest of the world treats Israel like a problem the U.S. has to solve," Rep. Anthony Weiner (D-N.Y.) wrote in the New York Daily News Thursday.
"In fact, the same 'past tense' we use to describe a once-promising relationship between Israel and Turkey may soon need to be applied to our own relationship with the Turkish nation," Weiner continued.
"This confrontation and the tragic loss of life could have been avoided had the organizers of the flotilla agreed to Israel's repeated offers to accept the humanitarian aid at an Israeli port and transfer it overland to Gaza," Sen. Carl Levin (D-Mich.), chairman of the Senate Armed Services Committee, said in a statement.
Tan took on the lawmakers' interpretation of events, and seemed to warn Israel that launching a public relations campaign against Turkey would be a costly mistake.
"They should think twice, hundreds of times, millions of times, before making such statements that certain people and certain circles are saying against Turkey," Tan said.
"This is very wrong, and [Israeli Prime Minister Benjamin] Netanyahu knows this," Tan added. "This is not a sustainable situation."
Tan conceded that Israel may realize that it made a mistake in how it conducted the pre-dawn raid on the flotilla. But he insisted that Israel would have to apologize and accept an international investigation in order to back itself out of the diplomatic corner.
Two other Turkish demands – that Israel immediately return all of the flotilla activists as well as the bodies of those killed — have already been met. Ankara is also demanding that Israel loosen its blockade on humanitarian aid going into Gaza — something the Obama administration has made clear it is pressing Israel to consider.
Even so, Tan said Turkey is "disappointed" in Washington's muted public response to the flotilla violence to date, and its failure to publicly condemn Israeli actions.
The Obama administration is trying to ease strains between two key allies at a particularly delicate diplomatic moment. Ahead of the Gaza flotilla episode, the Obama administration had been planning to try to bring an Iran sanctions resolution to a vote at the UN Security Council this week, but that has now been pushed back, until at least next week.
While Ankara has made clear its longstanding opposition to economic sanctions on Iran as a general principal, Turkey has not yet publicly said which way it intends to vote on the UN Iran resolution, Tan said.
He also noted that the flotilla episode led to the cancellation of an important meeting that was to have taken place in Washington this week between Israeli Prime Minister Benjamin Netanyahu and Turkish Foreign Minister Ahmet Davutoglu that would have focused on Iran. Netanyahu ended up cancelling his trip to Washington to fly back to Israel Monday to deal with the flotilla raid fallout.
Once strong Israeli-Turkish ties have frayed in the wake of Israel's late 2008 military campaign against Hamas in Gaza. Strains have also grown with the rise of the Islamist Justice and Development Party (AKP) of Prime Minister Erdogan, who has sought to improve Turkey's ties in the Muslim world, including with Syria and Iran.
Both Turkey and its long-standing rival Greece announced they were cancelling planned joint military exercises with Israel in the wake of the flotilla episode.
Meantime, the White House urged another ship attempting to bring humanitarian aid to Gaza to sail to the Israeli port of Ashdod, where its cargo could be inspected, so as to avoid another confrontation with the Israeli navy.
"In the interest of the safety of all involved, and the safe transmission of assistance to the people of Gaza, we strongly encourage those on board the Rachel Corrie and other vessels to sail to Ashdod to deliver their materials to Gaza," NSC spokesman Mike Hammer said in a statement Friday. Politico