Medvedev warns Iran to to 'stop behaving irresponsibly'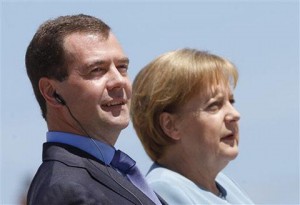 Iranian President Mahmoud Ahmadinejad is downplaying the existence of tensions between Tehran and Russia in an interview with Lebanon's LBC TV Saturday. His words follow a warning by Russian President Dmitri Medvedev that Iranian leaders must "listen to the voice of the world community," or face new sanctions.
Iranian President Mahmoud Ahmadinejad downplayed the significance of a warning by Russian President Dmitri Medvedev Saturday to Tehran to "stop behaving irresponsibly," over its nuclear program.
Mr. Ahmadinejad told Lebanon's LBC TV that "tensions between Iran and Russia exist, but that Russian politicians behave cautiously with regard to their interests." Russia has close ties to Iran and its nuclear program as chief architect of the yet-to-be finished Bushehr nuclear power plant.
During a press conference in Meseberg, Germany, Saturday morning, with German Chancellor Angela Merkel, Russian President Medvedev indicated that new sanctions against Tehran were in the offing, that agreement on the sancntions exist and that Iranian leaders should begin to heed international warnings:
He says that no one wants sanctions, but that in some cases you have to impose them, and that an agreement on sanctions has already been reached. But, he nevertheless urged Iranian leaders to listen to the voice of the world community and to stop behaving irresponsibly. Only in this way, he added, can thorny problems be resolved.
Russia, in the past, has been reluctant to impose sanctions on Iran which is a trade partner.
Russia, along with the U.S., Britain, France and China, is one of five, veto-wielding, permanent members of the United Nations Security Council. The support of both Russia and China will be needed to approve a new round sanctions against Tehran, which the White House says could come as soon as next week.
Russian Foreign Minister Sergei Lavrov indicated Friday that the new round of sanctions being worked on would not include "paralyzing sanctions," so as to accommodate the economic ties and interests of Russia and China with Iran.
President Ahmadinejad blasted Russia recently, complaining that Moscow had "sided with those who have been our enemies for 30 years."
Iran analyst Alex Vatanka of Janes' Islamic Affairs Analyst says that Russian President Medvedev's criticism of Iran's behavior Saturday is the strongest to date and can no longer be ignored by Iranian leaders. "The fact that the closest partner, a country that has been working on Iran's sole nuclear plant in Bushehr since '95 comes out and says there is not enough transparency (in Iran's nuclear program)…I can't think of any other moments where we've heard such a damning criticism come out of Moscow, and there is just no way the Iranians are going to be able to underplay the significance of this," he said.
Vatanka says that Iran is coming to the realization that neither China nor Russia are going to help Tehran avoid sanctions, and that Iran has even made overtures towards Taiwan in a bid to express its displeasure with China over its apparent willingness to agree to new sanctions.
"I thought it was very interesting that Islamic Republic of Iran in its history has ignored Taiwan, and yet in the last month or so we've seen the Iranians having overtures, asking for permission to set up a representative office in Taipei. Again, the point there is that the Iranians don't trust the Chinese either, and want to put pressure on the Chinese, saying 'don't take us for granted.' So, in a nutshell, the Iranians have basically two very unreliable partners at the U.N. Security Council and this surely must be a wake-up call," he said.
Top U.S. officials say that they are moving ahead with a new sanctions resolution, despite the apparent reluctance of non-permanent Security Council members Brazil and Turkey. Both Brazil and Turkey brokered a nuclear fuel swap deal last month in a last ditch bid to avoid new sanctions. VOA