6 Malaysians on board Rachel Corrie to return home soon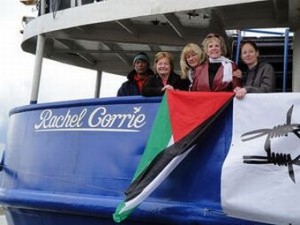 Six Malaysians on board the seized MV Rachel Corrie who are expected to arrive in Jordan today after their release by Israeli authorities, will return home soon said Deputy Prime Minister Tan Sri Muhyiddin Yassin.
According to Muhyiddin, the Malaysian Embassy in Amman, Jordan would seek the assistance of the Thailand Embassy in Tel Aviv, Israel to facilitate their return.
He added that the Jordanian Foreign Ministry had informed the Malaysian Embassy that the six Malaysians – Shamsul Akmar Musa Kamal, lawyer Matthias Chang, Parit Member of Parliament Mohd Nizar Zakaria, activist Ahmad Faizal Azumu, and TV3 crew members Halim Mohamed and Mohd Jufri Judin – are expected to enter Jordan via the King Hussein Bridge at 6pm Malaysian time.
"As for the latest status of Rachel Corrie, I was informed by Foreign Minister Datuk Seri Anifah Aman that the ship was seized by the Israeli army about 30 nautical miles from Gaza.
"They were taken to Port Ashdod and the 19 passengers and crew, including six Malaysians are safe," Muhyiddin told reporters at the Kuala Lumpur International Airport (KLIA) on Sunday.
Muhyiddin was at the airport to receive 12 Malaysians who were detained by Israel Defence forces while on board aid ship Mavi Marmara that was heading to Gaza with humanitarian aid, and later released from an Israeli prison.
The Deputy Prime Minister also gave his assurance that the Malaysian government would continue to assist humanitarian missions aimed to help the people of Palestine.
He added that Malaysia would also support attempts and calls by anyone to condemn the Israeli government for such violence.
"It is up to the people, if they want to take any form of action, the government will not stop them.
"We will support such initiatives, including that by former Prime Minister Tun Dr Mahathir Mohamad, who initiated the mission. We will give the necessary aid and support," he said.
Bernama