Turkey on Israel: Nothing will be the same again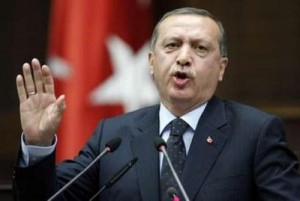 Israel's closest Muslim ally accused the Jewish state Tuesday of a "bloody massacre" against an aid flotilla of six ships carrying humanitarian goods bound for blockaded Gaza. At least four Turks are reported to be among those killed in the Israeli ship raid.
"We see clear murder taking place, and we see an aggressive country" that's not regretting this, Turkish Prime Minister Recep Tayyip Erdogan said Tuesday in a parliamentary address. "We're sick and tired of your lies. Be honest."
Erdogan told lawmakers in the Parliament that the boarding of the Mediterranean flotilla was an attack "on international law, the conscience of humanity and world peace."
"Today is a turning point in history. Nothing will be same again," Erdogan said.
Turkey's Foreign Ministry said four Turkish citizens were confirmed slain by Israeli commandos and another five were also believed to be Turks, although Israeli authorities were still trying to confirm their nationalities.
"This bloody massacre by Israel on ships that were taking humanitarian aid to Gaza deserves every kind of curse," Erdogan said, demanding that Israel immediately halt its "inhumane" blockade of Gaza.
Erdogan said the Israeli raid proved "how good they are at killing people."
"Israel in no way can legitimize this murder, it cannot wash its hands of this blood," Erdogan said.
Erdogan said Turkey would continue to support the Palestinian people.
"We will not turn our back on Palestine, Palestinians and Gaza," Erdogan said.
"No one should test Turkey's patience," he added. "Turkey's hostility is as strong as its friendship is valuable."
He urged Israelis to question the actions of their government.
"It is damaging your country's image by conducting banditry and piracy," Erdogan said. "It is damaging interests of Israel and your peace and safety. It is the Israeli people who must stop the Israeli government in the first place."
"Israel cannot ensure its security by drawing the hatred of the entire world," the prime minister declared.
Yigal Palmor, the Israeli Foreign Ministry spokesman, told CNN Tuesday that Israel regrets the casualties during the raid on the Gaza aid flotilla, but said "the sole responsibility" for the violent incident lies with activists who have "chosen violence and confrontation."
Israel said that 600 activists were transported to Beer Sheva prison in southern Israel. Forty-five of them have been released and were either deported or on their way to Ben Gurion International Airport in Tel Aviv.
Those who remain detained are ones who have refused to identify themselves to Israeli immigration authorities, an Israeli Prison Authority said.
Ireland's Foreign Affairs Minister, Micheal Martin, called for the immediate release of seven Irish citizens who were on board the flotilla.
"The seven individuals concerned did not enter Israel illegally; rather they were essentially seized from international waters, taken into Israel and asked to sign documents confirming that they entered illegally. This is simply not acceptable," Martin said.
Meanwhile, both the Free Gaza Movement and Turkish authorities said that the detained passengers were being held incommunicado.
Turkish Foreign Ministry spokesman Selim Yenel said Israel has not allowed direct communication either in person or by phone between the detainees and the Turkish embassy in Tel Aviv. Also, Yenel said, the Israelis weren't sharing information about the identities of the dead.
Hanin Zoabi, a member of the Israeli parliament, was on board the Miva Marmara, the ship that was the scene of the confrontation between activists and Israeli soldiers. The Israeli Navy fired on the ships five minutes before commandos descended from ropes that dangled from helicopters, Zoabi said during a news conference in Nazareth, Israel. She said passengers on board the ship were unarmed.
Zoabi said the military operation lasted about an hour and that she saw five dead bodies in that time.
AP, CNN