Will Obama save Israel?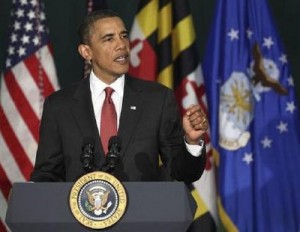 Israel can probably live with the diplomatic cost of its bloody storming of Turkish-backed aid ships bound for Gaza – unless its U.S. ally fails to shield it.
Israel's high-seas interception of the flotilla, in which nine people were killed, has provoked a firestorm of criticism around the world and shredded the Jewish state's already tattered relationship with Turkey, once its only Muslim ally.
Demands will intensify for Israel to end its siege of Gaza's 1.5 million Palestinians, decried as "inhumane" by Turkish Prime Minister Tayyip Erdogan on Tuesday. The European Union and Russia urged Israel to open crossings for aid, goods and people.
Another casualty, at least for now, is U.S. President Barack Obama's effort to get indirect Israeli-Palestinian peace talks moving. Monday's drama will further test the credibility of Obama's broad drive to regain the trust of Arabs and Muslims.
So far Obama has only voiced regret at the casualties and called for clarification of what happened in the raid. The U.N. Security Council condemned the "acts" that led to casualties and urged an investigation "conforming to international standards."
Israel has weathered world outrage over its policies toward Palestinians and its Arab neighbors often in the past, largely because it could rely on Washington to veto hostile resolutions at the U.N. Security Council and protect it from any punishment.
"Despite the protests against us, we've been through more difficult situations," Israeli Finance Minister Yuval Steinitz told Israel's Army Radio, dismissing talk of sanctions.
The flotilla assault may further harm Israeli Prime Minister Benjamin Netanyahu's rocky relationship with Obama, but the U.S. leader is likely to think twice before joining global censure of Israel ahead of mid-term Congressional elections in November.
Unless, that is, he senses a new mood among Americans coming to view Israel as a liability, rather than a trusted ally.
U.S. SHIFT?
"The Obama administration, already irritated by the Israelis, might now see a shift in U.S. public opinion that will open the way to a new U.S.-Israeli relationship disadvantageous to Israel," wrote George Friedman, chief executive officer at Stratfor, a geopolitical analysis publication.
Even if this scenario fails to materialize, the fiasco at sea may force the United States to pay more attention to the plight of Gaza and the rift between its Hamas Islamist rulers and President Mahmoud Abbas's Fatah movement in the West Bank.
"For years, many in the international community have been complicit in a policy that aimed at isolating Gaza in the hope of weakening Hamas," said the International Crisis Group.
It noted that the United States, European Union and their UN and Russian "Quartet" partners had urged an easing of the siege.
"That is welcome, but opening the humanitarian tap is not an appropriate answer to a policy whose fundamental premise is morally callous and politically counter-productive," it said.
Israel, which launched a full-scale assault on the densely populated coastal strip 18 months ago, says its blockade aims to weaken Hamas militants who have fired rockets at Israeli towns.
The Gaza war halted indirect Israeli-Syrian talks mediated by Turkey and drew fierce criticism from Erdogan, who has since emphasized ties with anti-Israel neighbors like Iran and Syria.
Israel's once close relations with Turkey now lie in ruins.
"The Israelis killed Turks on the high seas," Paul Salem, Beirut director of the Carnegie Endowment's Middle East Program, told Reuters. "This will really change the mood in Turkey and push things in a more militant hardline direction. The government will probably have to follow suit to some degree."
Israeli leaders have already discounted the cost of losing Turkey, a moderate, secular Muslim state, as a potential mediator, saying it was no longer impartial, but trade, energy, tourism and military links may also suffer.
The attack on the aid convoy has scuppered any immediate prospects for indirect Israeli-Palestinian talks, but Netanyahu may not lose much sleep over a setback to negotiations that he only agreed to under considerable U.S. pressure.
Obama has struggled to put some kind of "peace process" back on track. Palestinians, weak and divided as they are, had also been reluctant to take part in the face of Israel's settlement drive in the occupied West Bank and East Jerusalem.
The president's efforts to "engage" foes like Syria and Iran have stuttered, while his goal of forging a new start in U.S. relations with the Islamic world has taken several knocks.
"The first was the Gaza war when his statements as president-elect were not very strong," said Salem. "The big one was his inability to get Israel to accept a settlement freeze.
"This is another test, where the U.S. response definitely is not going to be what the Arab and Muslim world wants."
Reuters