Following Hariri, Israel invited to the White House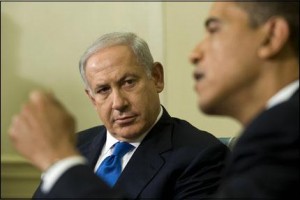 President Barack Obama's chief of staff Rahm Emanuel on Wednesday invited the Israeli prime minister to the White House next week. The invitation follows the reception of a delegation from Lebanon, headed by Prime Minister Saad Hariri. The last visit by the Israeli premier was met with a cold reception from Obama.
Emanuel, who was in Israel for a private visit, extended the invitation during a meeting with Prime Minister Benjamin Netanyahu. Officials in Netanyahu's office said the White House meeting would take place next Tuesday, after the Israeli leader wraps up a previously scheduled trip to Canada.
Emanuel told reporters the talks would focus on security issues, a likely reference to the Iranian nuclear program, as well as the Israeli-Palestinian peace process.
Emanuel was visiting Israel to celebrate his son's bar mitzvah, a Jewish coming-of-age ritual for 13-year-old boys.
The president is "asking to extend an invitation to you to come visit him at the White House for a working meeting to discuss both our shared security interests as well as our close cooperation in seeking peace between Israel and its neighbors."
The meeting will give Obama and Netanyahu a chance to repair a relationship that has been strained since the two men took office last year. Obama gave Netanyahu a cool reception during his last visit to Washington, even skipping the usual photograph session with reporters at the start of their March 23 meeting.
Relations between the U.S. and its top Mideast ally took a hit earlier that month when Israel announced plans to build 1,600 new homes in a Jewish neighborhood in east Jerusalem during a visit by Vice President Joe Biden. The announcement infuriated the U.S. and temporarily derailed plans to restart peace talks under American mediation.
Obama has pressured Netanyahu, who leads a conservative nationalist government, to halt Israeli settlement activity in the West Bank and east Jerusalem – captured territories that the Palestinians claim for a future state along with the Gaza Strip. Under heavy pressure, Israel has since put the housing project on hold and imposed an unofficial construction freeze in east Jerusalem. Netanyahu has also announced a 10-month slowdown on construction in West Bank settlements. The Huffington Post