U.S., Russia, China reach agreement on draft resolution on Iran sanctions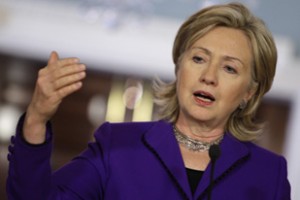 U.S. Secretary of State Hillary Clinton said on Tuesday that the U.S., Russia and China have reached agreement on a draft resolution on sanctions on Iran.
In a surprise announcement before the Senate Foreign Relations committee, Clinton said the draft resolution would be circulated later Tuesday to the 15-member UN Security Council, which includes Brazil and Turkey.
Clinton made the remarks when she was testifying at a hearing held by the Senate Foreign Relations Committee with regard to the U.S.-Russia nuclear arms treaty.
"This announcement is as convincing an answer to the efforts undertaken in Tehran over the last few days as any we could provide," Clinton told senators.
Clinton reiterated that Washington had raised "a number of unanswered questions" about the three-country deal, but welcomed what she called the "sincere efforts of both Turkey and Brazil."
China had long shown particular resistance toward new sanctions against Iran, and Russia had only recently expressed an openness toward such punitive measures.
The U.S. and other Western countries have been accusing Iran of trying to develop nuclear weapons, a charge always denied by Iran.
Xinhua